First-Year Experience
We are so excited to welcome our first-year students to Simmons University. Though this fall semester will be different than any of us anticipated, we are all so excited for you to begin your Simmons experience with us!
Dear Class of 2024,
On behalf of the Office of First-Year Programs, I want to again welcome you to Simmons University — though this Fall semester will be different than any of us anticipated, we are all so excited for you to begin your Simmons experience with us!
I understand that this is not how you imagined attending your Simmons Orientation. As President Wooten said in her welcome letter, "Though we know that next semester will not look or feel "normal" for any of us, we are intensely focused on providing a high-quality Simmons education and experience." I want to reassure you that the pandemic has not stopped the Simmons community from working hard, providing you with the tools and resources you need to be successful, as well as opportunities to find your sense of belonging here. 
We are looking forward to getting to know you throughout the summer. In July, we have planned several events where you will have opportunities to connect with your classmates as well as your Orientation Leaders. August will be filled with more activities, including the second part of your Orientation! I encourage you to stay connected, take advantage of these opportunities, and remember our class theme, "Stars wherever we are". Although we are far apart, like stars in a constellation, we can still come together to make something beautiful.
Alicia Lapolla
Dean of First-Year Programs
Fall Programs for First-Years
Our Strategies for Success program will facilitate a successful transition to Simmons.
After Orientation, all First-Year students will be assigned a First-Year Mentor.
Students who join a theme community or Living-Learning community will have a Resident Advisor who will serve as peer mentor to these communities and host regular programs.
First-Year students will be invited to participate in a series of events and activities related to this year's community read, What The Eyes Don't See
"First-Year Fridays" will offer social opportunities for First-Year students to interact with one another.
First-Year Read
The First-Year Read is a shared reading experience that introduces incoming first-year students to academic and co-curricular life at Simmons. Centered around the exploration of common themes, issues and topics, the First-Year Read is designed to engage students intellectually and provide a dedicated forum for critical discussion and the thoughtful exchange of ideas and perspectives.
Students read the book over the summer prior to arriving at Simmons in the Fall and participate in First-Year Read discussions and activities during the first-year seminar course, Simmons Explore (SIM 101).
We are pleased that the 2020 First-Year Read selection is What the Eyes Don't See: A Story of Crisis, Resistance, and Hope in an American City by Dr. Mona Hanna-Attisha.
Check out the Library Guide for the First-Year Read. This resource will enable students, faculty, and staff to access information related to the book, including: accessing the book, information about the author, current events, facilitation guides, and faculty research.
Join the Discussion
Follow the Class of 2024 Instagram page for posts related to the book including: commentary from faculty experts and discussion questions to help you reflect on the reading.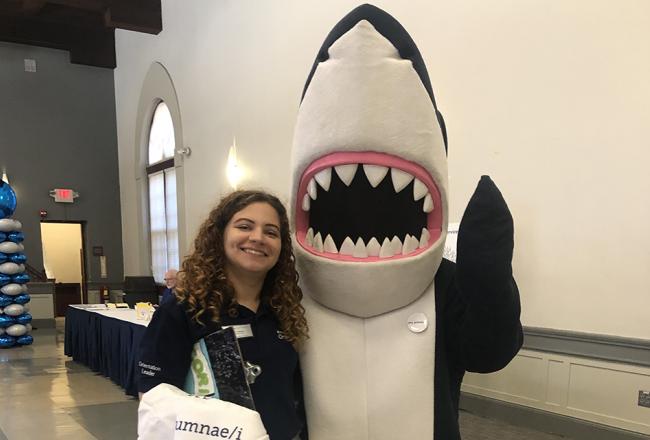 Orientation
At Orientation, you'll meet fellow classmates and attend important information sessions that will help ensure your success at Simmons.
Meet Your Classmates
Meet your classmates, find your future roommate, and have all of your questions answered through our Facebook groups and Instagram page made specifically for the Class of 2024!