Get Involved
We value each unique voice on our campus. That's why each member of the Simmons community is encouraged to seize opportunities to connect with, learn about and celebrate each other.
Student-centered Organizations
Get involved! Talk to members of our current student organizations to find the best fit(s) for you. Don't see a group that speaks to you? Contact Student Life about establishing a new one.
Organizacion Latino America (OLA) celebrates and represents the Latino/Hispanic community through art, music, food, lectures and other activities;
The French Liaison's creates a welcoming environment for students interested in learning about France and Francophone countries;
The Association of Black Social Workers is the Simmons Student Chapter of the NABSW;
The Sexuality, Women and Gender Center (SWAG) increases awareness about health and social issues concerning members of our community, with events such as Love Your Body Week, LunaFest and Take Back the Night!
The Black Student Organization (BSO) works to redefine sisterhood for its black females on campus while channeling its efforts to the outside community;
The Dotson Bridge and Mentoring Program enhances the educational experience and success of ALANA Students enrolled in the nursing program;
The Gospel Choir engages our community musically, spiritually and mentally;
The Like Minds Coalition fosters awareness and respect of a diverse array of people, cultures, abilities and experiences;
The Simmons Model UN attempts to advance understanding of the UN as well as historical and contemporary international issues;
The ALANA Nursing Association strives to foster a cultural community, enhance networking opportunities and encourage pluralism on the part of faculty, administrators and students.
The Simmons University Islamic Society is an organization devoted to strengthening ties between Muslim students and the Simmons community.
Find more Student Organizations.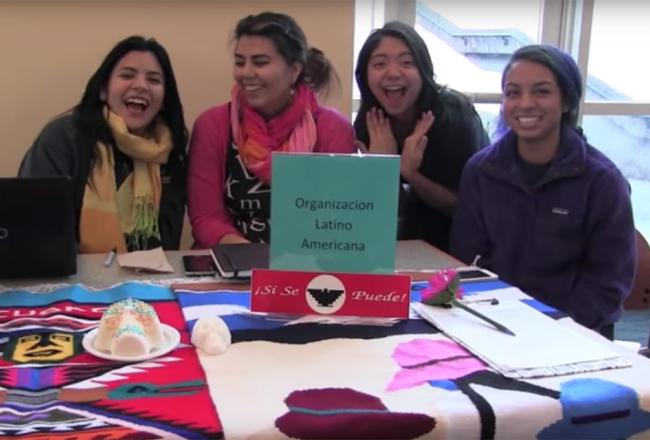 Woman on Campus: Student Organizations
Students speak about their organizations and motivations to be involved.
More Videos