Spring Orientation
Spring Orientation is for all incoming first-years, transfers, and Dix Scholars who will be starting classes in the Spring Semester. This year, Orientation will be held in a live, virtual format. A complete schedule with additional details, including how to access the virtual event, will follow in the coming weeks.
Save the Date for Orientation on Thursday, January 28, 2021
Congratulations on your acceptance to Simmons University! We are thrilled you will be joining us for the Spring 2021 semester.
This year, Orientation for students beginning in Spring 2021 will be held virtually on Thursday, January 28, 2021. Orientation is a live, one-day program and includes additional virtual events throughout the weekend to welcome and acclimate you to the Simmons community. A complete schedule of events, including the link to the virtual event, will follow shortly.
All incoming students are expected to attend this Orientation, but please complete the registration form to confirm your attendance and provide us with additional information. If you are unable to attend, please notify us as soon as possible so that we can work with you to make alternate arrangements.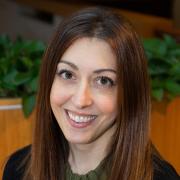 Alicia LaPolla
Assistant Dean for First Year Programs & First Year Class Dean