2020 3D Award Speakers
The award acknowledges exemplary student work in Design Across Diverse Disciplines (3D), which enables students to create, design and propose a cluster of three courses that will address a topic, problem or issue from various disciplinary perspectives. Winners of the 3D Award will have the opportunity to present their 3D and receive their award at the Undergraduate Symposium.
3D award applications for the 2021 Virtual Symposium are now being accepted! Juniors and seniors with completed 3D narratives are welcome to apply. Winners of the 3D award will receive a monetary award of $250 and will present their 3D narratives to the Simmons community on Thursday, April 22, 2021.
Inclusive Excellence
This award winner has a plan that centralizes inclusive excellence and equity. The 3D plan demonstrates a commitment to creating more just and equitable societies, whether that entails studying systems of oppression, creating plans for change, or learning from those who have made social justice a cornerstone of their life's work.
Shauntina Powell, Class of 2021
Major: Biochemistry (Pre-med track)
3D Project: Racial Health Disparities in Boston
Shauntina's 3D project incorporates ideas and concepts from the following courses: Baltimore & Boston: Urban Medical Communities, Health, Illness & Society, and an Internship at the Dimock Center to gain a better understanding of health disparities in cities, particularly in Boston. The Urban Medical Communities course gave her insight on the experience of African-Americans within Urban Medical Communities such as Baltimore and Boston. The Health Illness & Society course provided her with more information on public health and how illnesses, both infectious and chronic, impact society. During this course, she was able to expand her knowledge on how certain groups of people are unjustly affected by illnesses due to their socioeconomic status, immigration status, gender, or race. Through the Internship at the Dimock Center she hopes to gain first-hand experience on how the center works to foster a healthy community by creating equitable access to healthcare and education. As a resident of Boston, Shauntina has had first-hand encounters with health disparities within her community, but she has never had the opportunity to see how these disparities are being combatted. Through her 3D project, she will be able to cohesively intersect ideas from three different disciplines to gain a better understanding of "Racial Health Disparities in Boston."
Shauntina Powell is a third year Biochemistry major on the Pre-Med track. She is the PR Chair for the Pre-Health Liaison and SGA Representative for the Commuter Student Organization here on campus. Over the summer she had the opportunity to partake in the Summer Health Professions Education Program (SHPEP) at Columbia University. She has participated in various Simmons University programs such as Simmons World Challenge: Argentina during her sophomore year, and the Pre-Med Scholar Program in partnership with Beth Israel Deaconess Medical Center. Shauntina is planning to pursue a Masters in Public Health after graduation, followed by Medical School. Ultimately, Shauntina hopes to become a physician that provides equitable health care to all of her future patients.
Most Innovative
This award rewards 3D plans that think outside of the box, privileging originality, creativity, and risk-taking. Students applying for this award should consider what is new, different, or unexpected about their approach.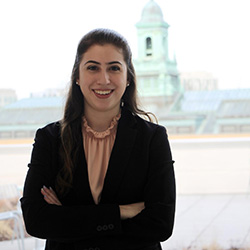 Cristina Samaniego, Class of 2020
Major: Nursing
3D Project: Cristina's Keys to Success
Cristina Samaniego is a senior and soon-to-be graduate of Simmons University. Cristina is majoring in nursing and minoring in business management with a concentration in health care administration. She is a Dotson Scholar and athlete on the Simmons Diving team, and president of ALANA Nursing. Cristina works part-time as a nursing assistant on a surgical floor at Boston Children's Hospital and aspires to be a pediatric nurse. She chose to study nursing because she wanted a rewarding career that would allow her to help people. She was attracted to the patient-centered focus on care that is at the foundation of nursing practice.
Cristina's Keys to Success offers a fresh perspective of a nursing major's path at Simmons University. Cristina combines unique classes to the traditional nursing track with the goals to foster her personal interests and enrich her nursing practice. Her 3D plan allows her to explore three passions: travel, business, dance with academics. The three courses that make up her 3D plan are: Health Care: A System's Perspective which was completed at the University College of Dublin in Ireland, Organization, Communication, and Behavior, and Barres and Ballet.
In Ireland, Cristina learned about the different health care systems seen throughout Europe and compared these findings to our system in United States. In Organization, Communication, and Behavior, she was able to connect the skills that make up a successful company and incorporate them in patient relations, an important aspect of the health care profession. Lastly, her final course, Barres and Ballet, captivates the delicate balance that comprises nursing, both an art and a science. These three distinctions allowed her to cultivate a unique approach to nursing. Cristina strives to think outside of the nursing bubble and foster different passions to build upon life skills that will aid her in becoming a successful nurse.
Most Community-Oriented
This award seeks applicants whose 3Ds purposefully engage with specific communities or populations, and strive to better understand their workings. Classes included in these 3Ds may involve community-based learning, either formal or informal. Applicants should explain how real-world settings and issues inform their 3D plans.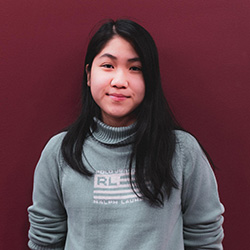 Irene Nguyen, Class of 2021
Major: Neuroscience and Behavior
3D Project: Understanding Drug Addiction in Our Society
Irene's 3D project weaves together CHEM345 (Biochemistry), PSYCH244 (Drugs and Behavior) and SOC101 (Principles of Sociology). These courses entail themes of public health, social injustice, medicine, and science. Biochemistry provides information on the function, mechanism, and structure of molecules or compounds, which are the composition of many natural and synthetic drugs. In addition, knowledge in biochemistry is pertinent in pharmacology. Drugs & Behavior further explores how the drugs react mechanistically in the nervous system, as well how the body processes the drug and what effects the drug has on the body. Finally, Irene's 3D offers knowledge on the effects of both legal and illicit drugs. Principles of Sociology examines this topic on a more global or societal level.
This 3D project develops an understanding of the factors that increase the risk of substance abuse disorders, as well as social inequalities relating to drug use. The Opioid Crisis illustrates a public health issue where even legal/prescription (not just stereotypically illegal) drugs can be abused. Society unfairly punishes and degrades those who suffer from drug addictions. It does not take into account the many factors that must be addressed and that may play a role in drug addiction, such as poverty, mental illness, and painful psychological or physiological withdrawal symptoms. In addition, Irene hopes to learn more about how we as a country and society can help and treat those who are afflicted with substance abuse disorders, including more humane approaches from the government.
Irene Nguyen is currently a junior at Simmons University, majoring in Neuroscience and Behavior (Neurobiology) on the premedical track. Irene, along with her peers, co-founded the Commuter Student Organization (CSO). She is the event chair for the CSO, responsible for organizing and preparing the organization's numerous events and activities. Additionally, Irene enjoys volunteering at Boston Children's Hospital, as well as assisting with neuroscience research in Dr. Eric Luth's lab. She is passionate about topics relating to neuroscience, mental illness advocacy, research, and healthcare, including health equity. Irene enjoys reading, drawing, and visiting new places with friends.
Most Global
This award will be given to the student who demonstrates an ability to think in global terms about their chosen issue or topic. While the topic itself need not be global per se, the award will be given to a student who most effectively demonstrates that their approach takes international perspectives, attitudes, and systems into account.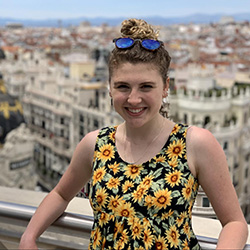 Molly Skeffington, Class of 2021
Major: Public Health and Environmental Science
3D Project: Responding Responsibly to a Changing World
Molly's 3D project includes MGMT 224 (Socially Minded Leadership), SOCI 245 (Global Health), and NUTR 150 (International Nutrition Issues). She is passionate about Public Health and Environmental Science, and strongly believes that environmental issues, such as climate change and issues pertaining to public health, are interconnected. Environmental problems anywhere impact people's ability to live a viable life. Her 3D courses explore these connections, seeking to understand some of the predominant public health problems not just in the United States, but globally as well (Global Health). International Nutrition Issues investigates issues such as hunger, and malnutrition, seeking to understand how a changing climate may change what food people have access to. While the previous two courses investigate and identify global health inequities, she chose Socially Minded Leadership as her third class in the cluster as the themes explored in this course aim to yield answers for how to respond to said global health issues. Socially Minded Leadership provides students with leadership tools that can be used to address environmental and public health issues in a socially responsible way.
Molly Skeffington is a third year student at Simmons University, double-majoring in Public Health and Environmental Science. Molly hails from the coast of Maine and feels very lucky to have grown up in a place that gave her a love and an appreciation of the environment. She began to understand the severity of what the Earth was facing in terms of climate change at a young age, while in elementary school. Molly hopes to combine her passions for health equity and environmental conservation in her career after Simmons.