2022 Undergraduate Symposium | Thursday, April 21
Join us for the annual Undergraduate Symposium on Thursday, April 21!
Undergraduate students across all disciplines will present their senior capstones, independent research projects, creative works, internships, data science projects, and more in live Zoom panel sessions and video presentations.
The Symposium consists of two parts:
Live Presentations
Video Presentations
The live presentation schedule is listed below. To fuel your day, drop by our booth in the Common Grounds between 8:30 - 10:30 am on April 21 for complimentary coffee, tea, pastries, and a program schedule, and head over to the Center for Leadership and Engagement (Management Building C, First Floor) between 9:00 am - 6:00 pm for a Symposium watch party! All presentations are held via Zoom and will be recorded.
Read the program brochure to learn more about each project, and visit the Student Video Exhibit to watch presentations from students in the arts, environmental and health sciences, data science, social sciences, policy and practice, media studies, and other fields. For more information, email [email protected].
---
Zoom Panel Presentations
Computer Science: Breaking Down Barriers in Human-Computer Interactions
9:00 - 10:00 AM ET
Add to Google Calendar | Join Meeting | Zoom ID: 937 9032 6360
Presented by: Chelsea Hua '24, Livic Inoa '22, Melat Ali '22, Nardos Alemu '24, Wanjing Li '22, Samin Charepoo '22, Ismah Ahmed '22, Tabitha Miles '22, Julia Hartnett '22, Megan Willis '22
This panel explores innovative pathways in computer science for breaking down the barriers in human-computer interactions, thereby enhancing accessibility. Automatic Speech Recognition (ASR) has evolved widely. However, so far, only the more popular languages have been able to reap the benefits of having such technology at their disposal. The ASR group researched the design of an ASR system for low-resource languages, starting with some of our group's native ones - Amharic and Vietnamese. Our goal is to create a Siri/Alexa-like program that transcribes these languages automatically.
The spoken language not only helps formulate words, but allows us to gather a wide range of useful information about timing, intonation, prominence, phrasing, voice quality and rhythm which account for speech prosody. By using tools such as Pratt to label PoLaR annotations (based on Points, Levels and Ranges) and clinical experiments, we can see the intricate details of how an individual talks and what they infer by their tones, speech, sounds and more. The Prosody group will discuss the methods we used to analyze over 100 speech files to inform qualitative observations of human speech, creating files on the frequency of vocal cords and speech. In addition, we have updated existing R and python code to improve run functions that allow for automatic data analysis.
Finally, the Education group will discuss breaking down barriers to entering the CS profession by examining the rise of Coding bootcamps as an alternative pathway to the industry.
Violence and Identity in Francophone Literature (Presented in French)
10:00 - 11:00 AM ET
Add to Google Calendar | Join Meeting | Zoom ID: 995 8998 4246
Presented by:
Beatrice Crocker '24, Sexualité et identités queer dans «L'Armée du salut» d'Abdellah Taïa
Georgia Harper '22, Fanon et «Nedjma»
Students will present individual projects exploring themes of violence, identity, sexuality, and power. They will examine Abdellah Taïa's L'Armée du salut (2006) and Kateb Yacine's Nedjma (1956).
Oppression and Hope in Spanish Literature and Film (Presented in Spanish)
11:00 AM - 12:00 PM ET
Add to Google Calendar | Join Meeting | Zoom ID: 993 2474 9101
Presented by:
Julia Wilen '24, Cambios sociales en España: los derechos de la comunidad LGBTQ+ y de las mujeres (Social Changes in Spain: LGBTQ+ and Women's Rights)
Chloe Crelia '22, La redefinición de la familia y la superación de la brecha generacional en España (The Redefinition of the Family and Overcoming the Generation Gap in Spain)
Estela Raya-Fouts '24, Sistemas paralelos de explotación: un análisis de También la lluvia (Parallel Systems of Exploitation: an Analysis of También la lluvia)
In this panel students will present individual projects exploring themes of exploitation and overcoming in contemporary Spanish literature and film. They will examine social changes, such as the rights of the LGBTQ+ community, Women's Rights, the generational divide and family dynamics through short stories by Óscar Esquivias, Manuel Rivas, Paloma Díaz-Mas, and Rosa Montero. The panel will also study Spain's colonial past in Latin America and its ramifications today, by analyzing the film También la lluvia, by Icíar Bollaín.
Senior Keynote Speaker Awards
12:15 - 1:15 PM ET
Add to Google Calendar | Join Meeting | Zoom ID: 983 3440 8883
The Keynote Speaker Award is presented to three graduating seniors with outstanding projects in their disciplines. Keynote speakers are selected based on the following criteria: 1.) Presents a compelling and well-researched argument/idea/message; 2.) Demonstrates scholarly and imaginative engagement in a subject; 3.) Represents an original contribution to a discipline; 4.) Has broader social, cultural, or human-centered implications.
Presentations will be given by the recipients of the 2022 Senior Keynote Speaker award:
Eliot Stanton '22 (Data Science), Binaries in Binary: Harmful Consequences and Radical Possibilities of Technology for Trans Liberation
Sara Mitchell '22 (Economics, Sociology), Access, Success, and Social Mobility: Rethinking Low-Income Student Access to Different Tiers of the Higher Education Market Following the Great Recession
Sumeya Ali '22 (Sociology), Nexus of Blackqueerness & Anti-Muslim Racism
Re-Envisioning Modern America
1:30 - 2:30 PM ET
Add to Google Calendar | Join Meeting | Zoom ID: 910 9489 6730
Presented by:
Anna Boyles '22, The Mansion on Mill Street: Constructing Jackson, Mississippi's Red-Light District
Maggie Clancy '22, National Parks and Recreation
Lauren Howard '22, Executive Excedrin to Mother's Little Helper: Race and Gender in the 1950s Miltown Mania
Miranda Leclerc '23, Queer Nostalgia and the Closet: Class Identity and Aestheticism in Charlie Gibson's Recreation of Victorian Masculinity
Madeline Short '22, Gender Wage Gap: Teachers of Hillsborough County, NH, 1878-1890
This panel gathers historical research capstones by undergraduate seniors that interrogate identities and ideologies in the U.S. from the late 19th century through the 1960s. How did cultural expectations shape the way Americans thought about work and leisure, health and sexuality, in the modern era? Using diverse sources and methodologies, these place-conscious projects examine how gender and class played out across wild, rural, suburban, and urban geographies.
Exploring Public Health, Environmental Conservation, and Cultural Preservation Through Experiential Learning
2:30 - 3:45 PM ET
Add to Google Calendar | Join Meeting | Zoom ID: 977 4727 2458
Presented by:
Emma Keeling '22, Exploring the Intersection Between Upstream and Downstream Approaches to Domestic Violence Work
Beyza Erdem '22, Focused Ultrasound Mediated Drug Delivery of an AAV-9 Packaged Gene Therapy for Huntington's Disease
Hena Haque '22, The Characterization of Food Preservation Coatings Using Scanning Electron Microscopy (SEM)
Maggie Clancy '22, Facile Methods for Reusing Laboratory Plastic in Developmental Biology Experiments
Lauren Howard '22, For I Will not be a Party Man: Partisanship and Party Conflict in the Adams Administration
Shania Ambros '22, Cordigo Artspace: Sharing Cordilleran Cultural Knowledge through Art
In this panel, students will present their PLP projects across a variety of disciplines and share what they have learned through research, artistic endeavors, and internships. The six projects explore diverse topics but all address one of two themes: 1.) Using science to advance public health and environmental conservation; 2.) Preserving, analyzing, and sharing history and culture.
The Passionate Leaders Project (PLP) supports undergraduate students seeking to enrich their academic and professional interests by funding learning opportunities beyond the boundaries of the traditional classroom. Students may request up to $4,000 through the PLP to fund a variety of activities, including, but not limited to: global experiences, research, internships, service projects, and creative endeavors.
Pan-Africanist Women in History and Politics
4:00 - 5:00 PM ET
Add to Google Calendar | Join Meeting | Zoom ID: 967 0377 4537
Presented by: April Beatty '25, Danielle Donovan '25, Kaz Gebhardt '25, Nyree Skye White '25
This panel emerges from the honors Learning Community on Black Transnationalism. Students conducted final research papers on Pan-African women, drawing on their own original primary- and secondary-source research. These presentations shed light on a history and political-science scene too often dominated by men. The women covered in this panel include: Louise Thompson Patterson, an African American communist social worker; Angela Davis, an African American activist and author; and Claudia Jones, the Trinidadian woman responsible for founding London's famous Notting Hill Carnival.
Kids, College, and Costs: An Interdisciplinary Approach to Education in the 21st Century
5:00 - 6:00 PM ET
Add to Google Calendar | Join Meeting | Zoom ID: 922 5061 2834
Presented by: Lauren Lanseigne '22, Sara Mitchell '22, Madison Poshkus '22
Education governs the life of young people for their childhood, adolescence and into adulthood, and it is clear that the educational system in the 21st century is unlike it has ever been. Events ranging from the 2008 financial crisis to the racial reckoning of Summer 2020 have had massive impacts on American education. By considering the lens of teaching practice, economic analysis, policy implementation, and the allocation of budgetary funds, we structure a holistic understanding of the overarching issues as they impact the educational system nationally. This panel features projects that highlight the different ways the American education system has fundamentally changed in the last twenty years, ranging from curricula in the classroom to access in higher education and the development of education policy in Massachusetts. Together, these projects work to consider the ramifications of educational inequality, funding disparities, and significant cultural and economic events in schools across the country.
Past Presenters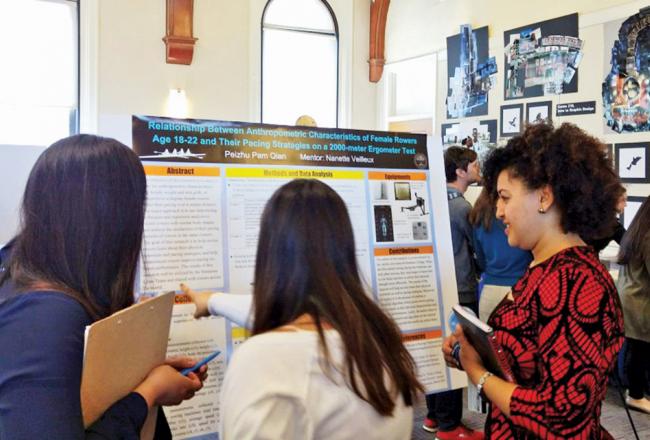 2022 Undergraduate Symposium Video Exhibit
See a collection of featured student presentations in the arts, media, humanities, social sciences, policy and practice, and the natural, behavioral, health, and data sciences.
Watch the Presentations
2020 Video Exhibits of Student Work