About the Undergraduate Symposium
The Undergraduate Symposium is a day-long event that recognizes and celebrates exemplary undergraduate scholarship across disciplines. Students present their work - often the culmination of a semester or year-long engagement in a project - with peers, faculty, staff, supervisors, family and friends, and other members of the community.
Projects may include senior capstones, independent research projects, service-learning projects, faculty-led research, global experiences, internships, creative endeavors, and more.
The 2021 Virtual Symposium of Undergraduate Research and Creativity will take place virtually on Thursday, April 22.
Keynote Speaker Award
Deadline: February 1, 2021 | Apply
The highly competitive keynote speaker award is presented to up to four graduating seniors with outstanding projects in their discipline. Keynote speakers are selected based on the following criteria:
Project is driven by a compelling thesis, hypothesis, or idea/message
Project demonstrates scholarly or imaginative engagement with the subject
Project topic is of interest to a wider audience
Project demonstrates a new, original contribution to the discipline or field of study
Winners of the Keynote Speaker award will receive a monetary award of $250 and will present their project at the Virtual Symposium on Thursday, April 22, 2021.
3D Award
Deadline: February 1, 2021 | Apply
The 3D Award acknowledges exemplary student work in Design Across Diverse Disciplines (3D), which enables students to create, design and propose a cluster of three courses that may assist them in better understanding and addressing a problem or issue from various disciplinary perspectives.
Exceptional 3D narratives will demonstrate one or more of the following:
A commitment to social, environmental, or economic justice, whether that entails studying systems of oppression, creating plans for change, or learning from those who have made social, environmental, and/or economic justice a cornerstone of their life's work;
An innovative perspective or approach to a social, environmental, economic, health, or otherwise human-centered issue;
Engages with underserved or marginalized communities or populations;
Allows the student to explore an issue through a global, international, or inter-cultural lens, taking into perspective varying attitudes, approaches, and systems.
Winners of the 3D award will receive a monetary award of $250 and will present their project at the Virtual Symposium on Thursday, April 22, 2021. Juniors and seniors with completed 3D narratives are welcome to apply.
Zoom Webinar and Video Presentations
Deadline: March 1, 2021 | Apply
Students may present their projects in one of two ways:
1. Live Presentations via Zoom Webinar: Students join a panel to present their projects to a live audience on April 22. A panel typically includes 3 to 4 students with individual projects organized around a common unifying theme, such as "Wellness and Disease Prevention" or "Identities and Movements," and are typically 45 to 60 minutes long. A panel may also be represented by a group project, in which multiple members of the group present a different aspect of their project. Slots are limited; therefore only group projects or group panels will be considered.
NOTE: Only ONE person from the group should submit an application for the live presentation.
2. Video Exhibit: Students with individual or group projects may submit a recorded video presentation, which will be published as part of the Virtual Exhibit of Undergraduate Research and Creative Endeavors on the Simmons University YouTube channel and website.
Undergraduates across all disciplines are welcome to apply for the video exhibit. Recorded videos, final abstracts and transcripts will be due on April 1. (NOTE: Due to accessibility laws, students recording a video will be required to upload a video transcript.)
Most students choose to record their video presentations using a free video recording software called Loom. Check out the video presentation guidelines for more information. For examples of exceptional video presentations, check out the 2019-2020 Highlights reel.
Questions? Contact us at [email protected]
Learn About Past Presenters: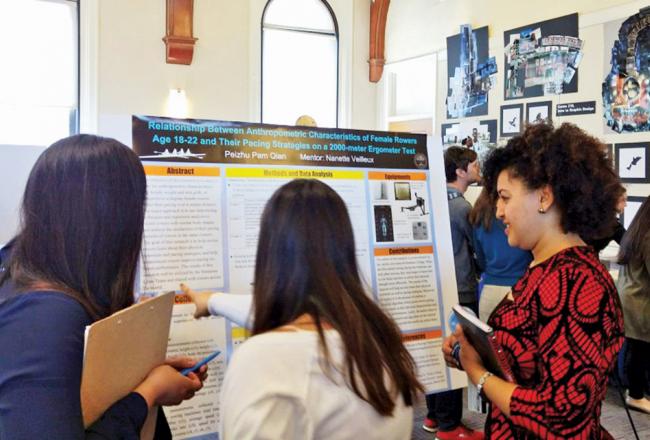 2019-2020 Highlights in Undergraduate Research and Creativity
See a collection of featured student presentations in the arts, media, humanities, social sciences, policy and practice, and the natural, behavioral, health, and data sciences.
Watch the Presentations