Student Story
The True Value of the Kotzen Scholarship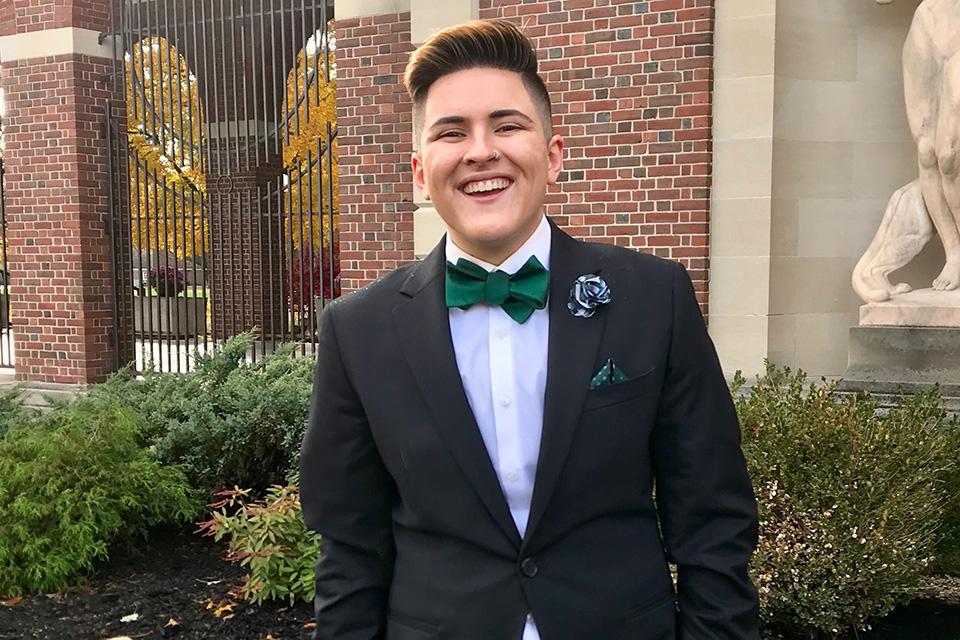 I've had so many moments throughout my time at Simmons that have shaped my experience and made me realize how important Simmons is to me.
Kaitlin Maloney '19 shares her experience as a Kotzen Scholar!

Why did you decide to major in political science and Africana studies?
I switched my major numerous times before I found the right fit for me! During my spring semester of freshman year I decided to try out political science, which I really enjoyed. It wasn't until the spring semester of sophomore year that I took two Africana studies courses with Dr. Theresa Perry. I very quickly realized that I was always excited to attend those courses and I was passionate about the course material. I decided to major in both programs and focus on the intersections of race and politics in America. My classes are exciting and I'm incredibly passionate about both disciplines.
What's it like being a Kotzen Scholar?
The Kotzen Scholarship has given me the freedom to explore my academic passions and the opportunity to really come into my own during my college years. I've taken courses across multiple disciplines and traveled to a few conferences in order to make connections for graduate school. With this scholarship, I'm able to focus completely on learning and growing as a person — the true purpose of a liberal arts education. I'm so grateful for every new experience that I'm able to have because of the Kotzen scholarship, and I hope to make the Simmons community proud. I also hope that I can pay forward the kindness of the Kotzen family to future Simmons students.
As a Kotzen Scholar, where have you traveled so far?
So far I've traveled to Princeton University for a graduate conference in African-American studies and Baltimore for the Free Minds, Free People conference. This spring I will be traveling to Senegal and Italy through the SIT: New African Diasporas program. I'm really looking forward to studying abroad because this will be my first time leaving the country, and that's an experience that I wouldn't have had without the Kotzen.
Tell us about your experience at the Free Minds, Free People conference.
Education and activism are two of my passions, and Free Minds, Free People was a conference centered around both topics, so I had a great time. One highlight of my experience was when we marched and protested recent immigration raids. I thought it was really amazing that the conference actually incorporated a community-based political action into the schedule of events. Educators and activists came to the conference not just to learn, but to organize and demonstrate and I was excited to be a part of it.
How is Simmons and your experience as a Kotzen Scholar preparing you for the future?
One of my professors during my first year told me that my future employers wouldn't care as much about my specific major, and they'd be more interested in whether or not I could speak well, write well, work with others, problem-solve, and think critically. I believe that Simmons has prepared me to do all of those things. My experience as a Kotzen has granted me access to greater networking opportunities, from conferences, to study abroad opportunities. There is no doubt in my mind that I've received the best preparation for post-grad life from Simmons and my Kotzen experience.
What is your Simmons moment?
At Convocation this year, Senior Class President, Maggie Belfi '18 said that she wouldn't know what her Simmons moment had been until she was able to look back and assess it. I have a similar outlook on this question. I've had so many moments throughout my time at Simmons that have shaped my experience and made me realize how important Simmons is to me, but I'm not sure which one is my definitive moment. I'm excited to let you know when I find out!