Faculty Spotlight
Pandemic Shines a Light on Digital Divide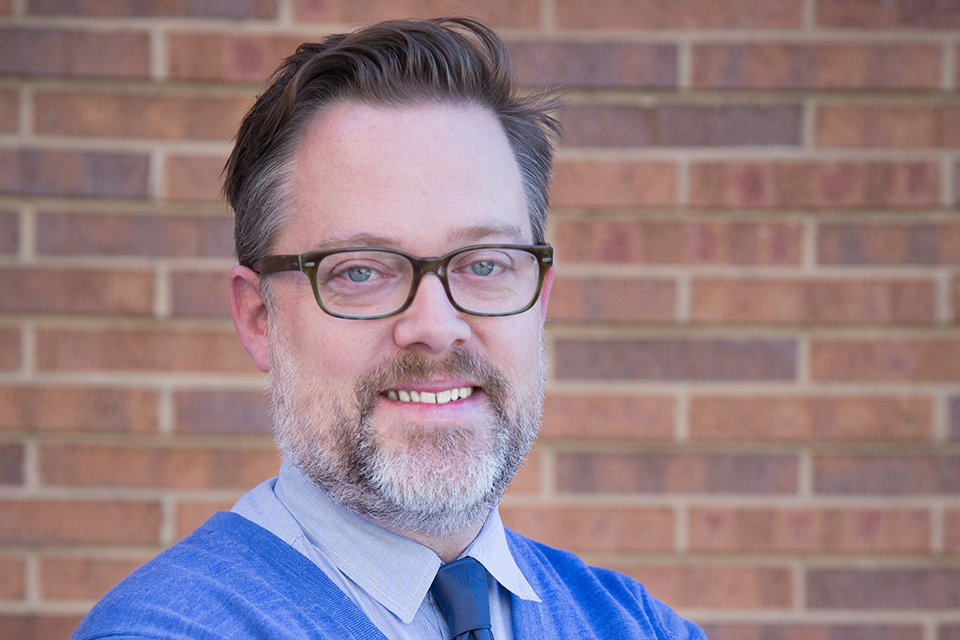 We need to hear stories from people most impacted by the digital divide during COVID-19 and to understand how the combination of digital inequality, racial injustice, and the pandemic are creating multiple oppressions that are impacting people, as a result of structural inequality over hundreds of years.
Associate Professor Colin Rhinesmith's research on broadband access, wireless hotspot lending, and digital equity has new relevance and importance in light of the pandemic. All of this research is done through the Simmons Community Informatics Lab, with project manager Susan Kennedy '20MS and SLIS student Jo Dutilloy '21MS.
"The most relevant work I've done is around the cost of broadband internet access," says Rhinesmith. "Affordability is a big issue right now as many people are forced to be at home and get online, and a lot of people are also losing their jobs."
These issues are not impacting everyone equally — communities of color have experienced greater negative consequences from the pandemic. For those same communities, the cost of broadband access makes working online prohibitive. With the closure of many public libraries, access to reliable internet is further limited, increasing the "digital divide." Rhinesmith's work has been cited in recent efforts to bring attention to the problems of affordability of broadband and to what public libraries and other institutions are doing to promote digital equity. Rhinesmith recently participated in a webinar, sponsored by the University of Illinois extension, the Illinois Office of Broadband, and the Benton Institute for Broadband & Society, to share his research on digital inclusion and broadband adoption. 
With funding from the U.S. Institute of Museum and Library Services (award #RE-31-16-0014-16), Rhinesmith and his colleagues at the University of Texas at Austin and Oklahoma State University also studied wireless hotspot lending programs in rural public libraries. In these programs, library patrons were able to borrow a hotspot device — about the size of a smart phone — for use at home. Findings from this research are highly relevant to potential broadband legislation, with a number of bills currently in the House and Senate.
"Some of these bills have looked at hotspots as a solution to the digital divide," says Rhinesmith, "but we've learned that if a community doesn't have access to a cell phone tower to connect to the device, it won't work."
Rhinesmith's most recent project measures the broadband speeds and quality of service in public libraries across the United States. Funded by IMLS for two years (award #LG-71-18-0110-18), this project recently received a one-year no-cost extension due to the pandemic, as it was interrupted by the closure of public libraries.
"A number of stories in mainstream media reported how people go to parking lots next to schools and libraries to get online during COVID-19," says Rhinesmith. "While it's important that libraries are playing this role, the bigger issue is that they don't have the broadband they need to support their communities outside their buildings."
With data on the speed and quality of their service, libraries can determine how to support patrons who rely on parking lot access.
Pulling all of this research together, Rhinesmith highlights the importance of "digital equity ecosystems," which he defines as all the actors in a community who are working together to provide access to those impacted most by COVID-19 and the digital divide. A number of cities have established digital equity coalitions to bring attention to these challenges, as a result of strategic and sustained organizing in communities across the U.S.
"These coalitions started before the pandemic, and now we're looking at what they are doing to support communities of color heavily impacted by the digital inequality, COVID-19, and racial injustice," explains Rhinesmith. "That is the next phase of this research that we hope will bring attention to the challenges and local solutions that communities are working on to help people during the pandemic."
The Community Informatics Lab is eager to assist by sharing information. "We need to hear stories from people most impacted by the digital divide during COVID-19 and to understand how the combination of digital inequality, racial injustice, and the pandemic are creating multiple oppressions that are impacting people, as a result of structural inequality over hundreds of years. In the Community Informatics Lab, we want to share those stories with policy makers and others who can provide additional support."