Student Story
Meet Your Orientation Leaders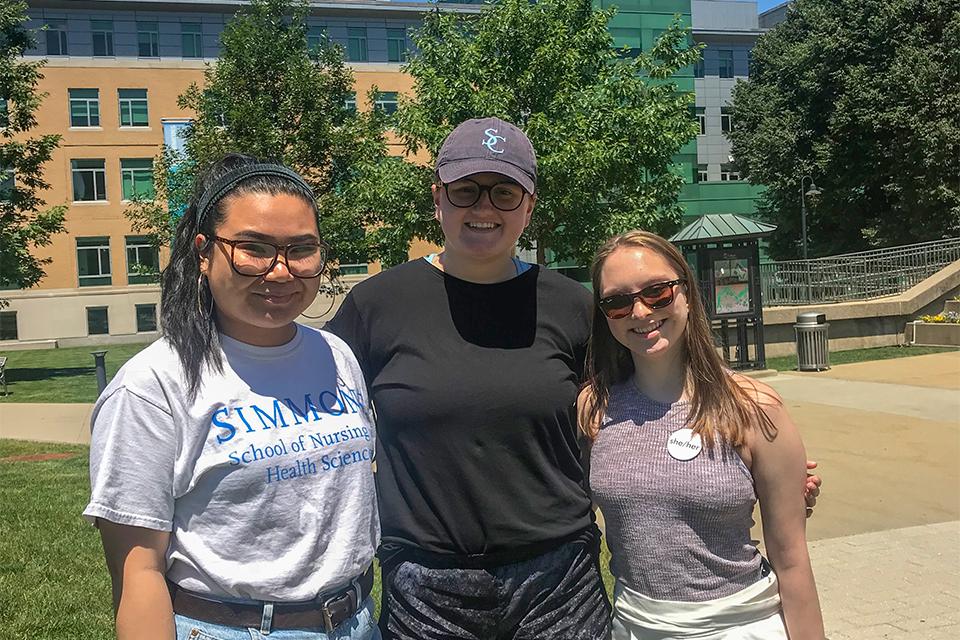 We chatted with Delaney Roberson '20, Josephine Tran-Vong '21 and Emily Mills '19 — 3 of our Orientation Leaders!

What's your major?
Delaney: Nursing.
Josephine: Nursing.
Emily: Political science with a minor in communications.
Where are you from?
Delaney: Highland, New York, a small town 90 miles north of New York City.
Josephine: I was born and raised in Stockton, California, but I currently live on Cape Cod, Massachusetts!
Emily: Bristol, Connecticut.
What residence hall did you live in as a first-year?
Delaney: I lived in South Hall's Wellness Community. It was the perfect dorm for me to complete my first two years at Simmons! I was able to live with so many awesome students who share my passion of health and fitness.
Josephine: Morse Hall — on the Arts floor.
Emily: South Hall! (The best hall)
What made you choose Simmons?
Delaney: When I first visited Simmons almost three years ago, I immediately noticed a profound sense of community. I could tell that fellow students, administrators and professors genuinely wanted me to succeed and grow into the best version of myself.
Josephine: Simmons is well known for its nursing program and it's in a great location. When I went on my tour, I just felt this sense of community and knew this is was it.
Emily: I chose Simmons for a few reasons. I wanted a small school where I could get to know my professors and get involved on campus. Simmons and Boston ended up being the best fit for me!
What made you make the move to become an Orientation Leader?
Delaney: During my own Orientation two years ago, I remember feeling incredibly nervous and overwhelmed. Transitioning into college life with completely new surroundings and people was not an easy task for me — I became an Orientation Leader to guide students through this process. Being an Orientation Leader perfectly melds my love of Simmons with student leadership.
Josephine: My Orientation Leaders were a big reason I wanted to become one. They just had this constant positive energy and they really made my transition smooth, and I also wanted to do that for others. 
Emily: I was super homesick when I first came here and had a rough adjustment. I wanted to become an Orientation Leader to help any students who were going through the same thing that I went through.
What are you most excited for at Orientation?
All: Meeting my orientees!
What's your favorite food at Bartol?
Delaney: I think a lot of Simmons students will agree that Nugget Night is the best! Bartol serves both vegan and traditional chicken nuggets, so even plant-based students can enjoy these tiny bites of pure deliciousness.
Josephine: The specialty pizza — my favorite is the ricotta and balsamic one, but really all of them are good. The pizza corner is what I check first when I step into Bartol.
Emily: The Mediterranean orzo dish! 
Do you have any tips for first-years?
Delaney: Don't underestimate the value of sturdy shower shoes and a comfy robe.
Josephine: This will be a confusing time, it's okay to not know what's going on. You probably aren't the only one!
Emily: Besides the typical stuff like don't lose your ID and don't take an 8 a.m. class, my biggest tip is to have fun, but work hard. Your first year is such a great opportunity to explore your interests and try new things. Take a class that sounds interesting — and get involved! 
Tell us one fun fact about yourselves!
Delaney: I teach yoga for our Fit at Simmons program! I absolutely love meeting new students this way, while also using yoga to destress and unwind from my hectic schedule.
Josephine: I'm a first-generation student!
Emily: I've watched the entire Parks and Rec series on Netflix 9 times — it's my favorite show of all time. I think I know every line from every episode.
What's your Simmons moment?
Delaney: The day I stepped foot into Boston Medical Center for my first nursing clinical was the most exciting, yet terrifying, day of my college career thus far. Although the nursing faculty do an amazing job of cramming ungodly amounts of knowledge into our brains, clinical is where nursing students truly learn how to excel in their field. 
Josephine: Towards the end of my first year, I became heavily involved in clubs and organizations, and now I hold e-board positions for them. Being in these spaces allowed me to meet amazing people who were just like me that I wouldn't have met elsewhere. My Simmons moment was feeling the sense of community I felt on my first tour, multiplied by ten. It was finding people you've only known for a few months but being comfortable enough to consider them family. 
Emily: Mine was when I traveled to Dallas, Texas last year for a student government conference with some of my fellow SGA members. I became so close with the people I traveled to Texas with, and we were able to become a more cohesive student government because of it. I've had so many opportunities to get involved and become a leader at Simmons, and every experience has lead me to amazing, lifelong friends.