Alumnae/i Feature
Maicharia Weir Lytle '05MBA Wins the Celebrating Our Greatness Award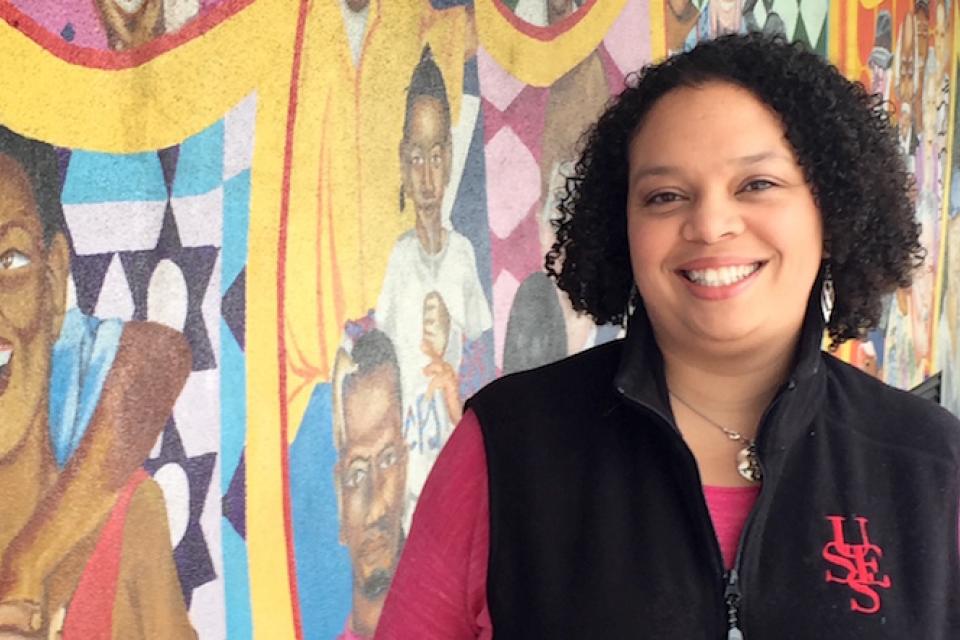 On Sunday, Maicharia is being honored with the Celebrating Our Greatness Award at the Black Alumnae/i Symposium!

Maicharia Z. Weir Lytle '05MBA is the President and CEO of United South End Settlements (USES). In her role, she drives the overall organizational, operational and programmatic strategy for all USES activities with the goal of helping families stabilize through access to resources.
On winning the Celebrating Our Greatness Award
It's an honor to be recognized by my alma mater. It's particularly special because the day I receive this award is also my daughter's 16th birthday. From the moment I first saw her, she has motivated me to be my best and she continues to inspire me every day by being the best that she can be.
The Celebrating Our Greatness Award is also special to me because many of the skills that I developed at Simmons still guide me in my work at USES today. Throughout my career, I've been passionate about the work that I've done with nonprofits. It's work that I could not have done without the support of wonderful teachers, mentors and colleagues along the way, as well as the incredible network of fellow Simmons alumnae/i. I'm very much looking forward to coming back to campus for the Black Alumnae/i Symposium.
On her Simmons education
When I decided to apply to Simmons in 2002, I was an executive director at another nonprofit. I knew that it was the right time in my career to get my MBA. I wanted to continue to build my skillset in the nonprofit industry, managing people and organizations that are working toward making a difference in the lives of individuals, their communities and society at large.
Simmons stood out to me as being a place dedicated to uplifting strong, powerful women. I was able to continue working full-time while attending classes in the evenings, and because of that, I immediately saw a huge influence on my career. I didn't have to wait two years to receive my MBA to begin putting the theoretical values of motivating and inspiring my team into practice.
Today, I continue to see the impact in the incredible opportunities we've created for women that lead the exciting work we do at USES. Our Senior Leadership team is entirely made of women leaders, who balance work and family every day.
On women she admires
There are many women in my life who inspire me, but most of all, I'm inspired by the women in my family. My daughter, who is so strong and resilient, brings me daily inspiration and always keeps me on my toes. My mother—a working mother just like my grandmother—who taught her children the values of education and put us on the best path in life. My mother inspires me as someone who has pushed through some of the most difficult of times but always remained graceful and witty. These women encourage me every day to be as great as I can be.