Campus & Community
Let's Get Crafty! 5 Projects to Exercise Your Creative Side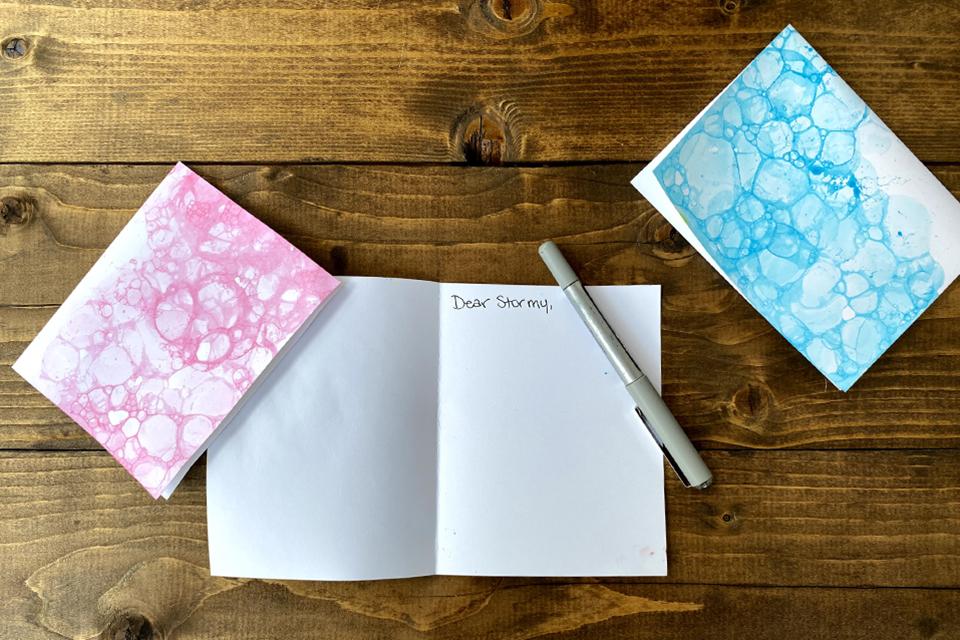 More time indoors these days means more time can be spent exercising your creative muscles. We've put together a list of craft ideas that can be done at home with common household supplies.
Many of us have nontraditional art materials that can be used for crafts. Items like empty toilet paper rolls, egg cartons, tissue paper, colored pencils, a glue gun, construction or printer paper can all be used.
So sit back, relax, and read on for craft inspiration!
Bubble/Soap Painting
This is a SUPER straightforward and interactive idea that is great for any age. Both children and adults can enjoy it. Bonus activity: bubble paint paper, fold it into a card and write a letter to a friend or a shark we miss dearly. 
What you'll need
Scrap paper or gift tags (whatever paper you would like to paint on)
Dish soap OR bubbles
Food coloring or ink
Small bowls
A straw
Creativebug Studios walks you through the art of bubble painting. You can bubble paint your own stationery, scrap paper or even gift tags!
DIY Cardboard Decorative Trays
You can also repurpose those cardboard boxes that are currently piling up by your recycling bin. Cardboard can be repurposed, decorated and transformed into a storage tray. These trays can hold jewelry, TV remotes or even books on your coffee table. 
What you'll need
Empty cardboard boxes (flattened)
Glue gun
Newspaper, patterned paper, paint (all optional for decoration)
HGTV Handmade is the name of a Youtube channel with a great tutorial that provides simple step by steps on the craft.
Egg Carton Craft
Similar to empty toilet paper rolls are egg cartons. Your empty egg cartons can be repurposed and made into flowers!
What you'll need
Empty egg carton
Scissors
A glue gun or glue stick
Paint or markers (optional)
This tutorial is easy and straightforward. Provided by Youtube creator Origami Twist.
Egg-cellent Seed Starters
Spring is in the air! There's never been a better time to exercise your green thumb. This project requires less common items of potting soil and seeds. Grocery stores often carry seasonal items that you could pick up on your next essentials run, or you can support a local business by ordering these from a neighborhood garden center. 
What you'll need
Empty egg carton
Scissors
Coffee grounds
Seeds
Potting soil
A waterproof plate or tray (to set the egg cups on)
Dengarden has easy to follow instructions for aspiring gardeners.
Toilet Paper Roll Sculptures
Rather than throw out your toilet paper rolls — repurpose them! Empty toilet paper rolls can be transformed into ornaments or sculptures. All that is needed is a little extra "TLC."
What you'll need
Empty toilet paper rolls
Glue or a glue gun
Markers or paint
Scissors
Try out this Animal Kingdom youtube tutorial by Youtube creator Pink Cloud for some animal-inspired sculptures.
Or perhaps something a bit more reminiscent of the natural world like a Toilet Paper Roll Cactus in this youtube tutorial from Ventuno Art.
---
We hope these ideas provided inspiration for you to craft and make art at home.