Campus & Community
Inclusive Excellence Update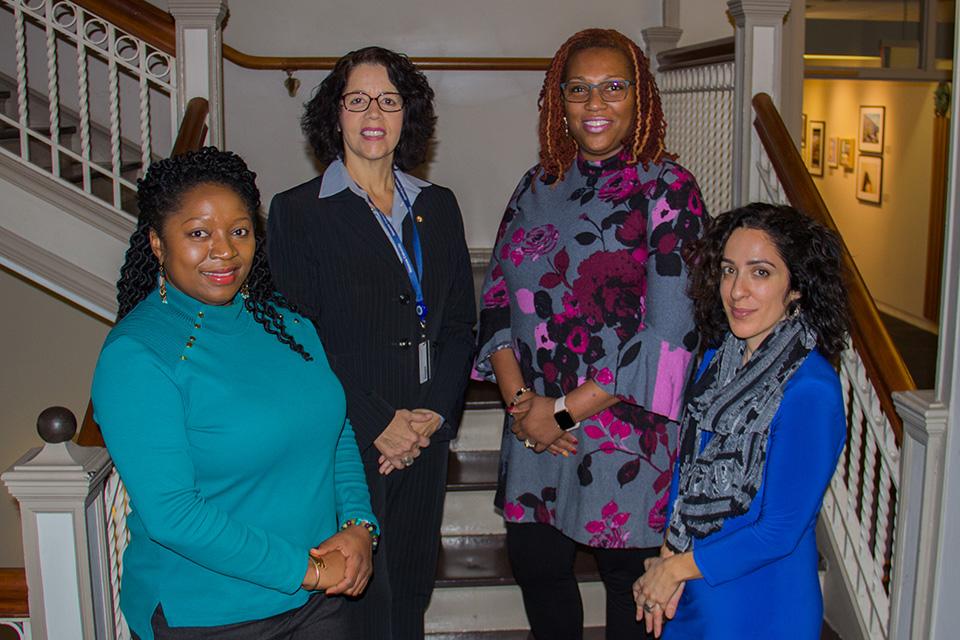 As we embark on this new year, the Office of Organizational Culture, Inclusion & Equity (OCIE) team at Simmons would like to share our progress thus far and the changes on the horizon.
Change can be the sign of a healthy institution, and a healthy organization and culture is one that includes the entire community and is self-reflective, so that we can learn from what we do. As we reflect on these changes, we are mindful that we all have more work to do to advance our diversity equity, and inclusion.
Diversity, equity and inclusion is integral to our culture, who we are, how we live and work, and who we are becoming.
Do you have questions or want to learn more? Follow us on Twitter, send us an email or call us at 617-521-3688.
---
Our Department, Mission and Philosophy
In September 2018, we created the OCIE to continue and expand the work of diversity, equity and inclusion in the Simmons community. OCIE is dedicated to upholding Simmons' commitment of providing a transformative and supportive learning environment.
We seek to facilitate fundamental cultural and institutional changes necessary to establish and maintain a fully inclusive campus, and to promote ongoing, meaningful, and engaged diversity. Diversity includes race, color, gender, gender identity and expression, sexual orientation, religion, age, national origin, ancestry, disability, veteran status or class/SES.
By approaching diversity work in a systemic and multidimensional way — so it is embedded in all we do — we will demonstrate the tremendous educational and cultural benefits that equity and inclusion initiatives have served and will continue to serve the Simmons community, the U.S. and the world.
Our Newest Team Member
Karene Alexander Thorne joins us as the Executive Assistant in the OCIE Office and is a valuable addition to the team. Her primary role consists of project management and administrative support for all events, initiatives, and matters pertaining to the OCIE mission.
Karene is a graduate of Babson College, grew up on the island of Jamaica, and lives in the Boston area with husband Kurt and daughter Lys. Fun fact: She loves designing diaper cakes for baby showers!
The Diversity Equity Inclusion Strategy
Simmons University is committed to building a community that is equitable and inclusive. As an integral part of strategy 2022, we are charged to create the conditions that enable Simmons to be the most inclusive campus in New England.
A core architecture has been established that identifies the appropriate goals, tactics, implementers, and accountability partners for our work. The following framework identifies how the work is currently outlined in the five-year vision and will serve as our foundation as we operationalize specific tactics and actions.
Activities thus far:
During the fall semester we gathered, reviewed, and presented demographic data of all constituencies to the Student Government Association, Staff Council, and Faculty Senate.
In partnership with Human Resources, we convened a committee across departments to establish programs and services that support retention, engagement, and the experience of faculty, staff, and administrators of underrepresented groups (see Partnerships below).
We collected qualitative data through focus groups for all constituencies during fall 2018 to assess progress and inform priorities and methods for DEI dialogue moving forward. We plan to publish a report with our findings.
We conducted extensive research to identify high-impact practices for civil discourse and respectful dialogue.
We introduced fall orientation programming and Simmons PLAN (Purpose Leadership ActioN) course curriculum and reinforced principles of diversity, inclusion, and social justice.
This semester we are launching intensive work on respectful discourse. We are calling this work The Journey to Respectful Discourse. This Journey will include inter-group discussions, activities and practices to advance how we mitigate the impact of discrimination, racism, bias while creating a practice of community, belonging and collaboration.
Together these efforts contribute to putting Simmons University on the path to inclusive excellence.
Connecting and Engagement with the Simmons Community
The OCIE team recognizes that we have to be in the community to hear and feel what is going on in the community. Shifting community culture is a tall order and we are taking on the task with fervor and look forward to the participation of every single member of the Simmons community to realize our shared goal.
Fall 2018 Actions
Community Open House (October 24, 2018): We invited the Simmons community to hear about the office and the work being planned in the community.
Fall Social for Employees of Color (October 25, 2018): We hosted a fall social in the Multicultural Center to meet and greet the faculty and staff of color and affirm their presence in our community.
Pop Up Meetings: We are committed to hearing from community members in "real time" on critical topics. In the fall we offered two Pop Ups on October 4, 2018 and December 5, 2018. We enjoyed the conversations and appreciated the feedback about individual experiences and suggestions for collective experiences.
Focus Groups: We want to hear from you! In November and December we hosted numerous focus groups for students, faculty, and staff to provide an informed backdrop for the work yet to occur.
Online Open House: In a first-of-its-kind event, on December 5, 2018, the OCIE team hosted an online open house/webinar for our students who are members of the nationwide Simmons community. We plan to stay connected with this group as the work continues.
Partnerships
One of our early partnerships and collaborative work has been with Human Resources and other colleagues. The Committee on Inclusive Excellence in Hiring, Employee Engagement & Experience engages the community in Simmons' effort to create and recruit from more diverse pools of candidates and to participate in creating a more inclusive environment that helps us develop and retain employees from under-represented groups. The goal of this committee is to enhance best practices in each area of the employee experience.
The committee consists of members from the Office of Organizational Culture, Inclusion and Equity, Human Resources, and representatives from our faculty, staff, student and alumnae/i populations.
Professional Development
Full-time Faculty
Romney & Associates, Inc., in partnership with the Simmons Center for Excellence in Teaching, continues to provide professional development for faculty to explore diversity, equity, and inclusion in their pedagogy and the learning environment utilizing AAC&U's Teaching for Inclusive Excellence framework. We are currently offering Teaching for Inclusive Excellence Seminars (TIES I &II) to accommodate new faculty and faculty who have not had the opportunity to participate thus far in the series that began in fall 2016.
The Teaching for Inclusive Excellence Seminars are participant-centered and utilize a dialogue-based approach to explore equity and excellence in teaching and learning. Faculty will have the opportunity to reflect on how their identities have affected their experiences and will discuss challenges faced by marginalized, underrepresented, and other students for whom attention to equitable approaches is especially important in teaching and learning.
Staff
This past semester and summer, over 150 Simmons staff members participated in a day-long seminar that addressed diversity, equity, and inclusion — deepening awareness, understanding, and comfort with integrating these concepts into the work that we do. Using a social justice framework, the session explores multiple identities, intersections among identities, and experiences of privilege/oppression, and their impact on our lives and work.
For this academic year, HR has identified a new online platform, Diversity: Inclusion in the Modern Workplace to assist staff in ongoing personal/professional development in the areas of diversity, equity, and inclusion. A diverse campus must also be inclusive. By focusing on key concepts that shape our world and inform our shared values and experiences, this course explores the nature of diversity and provides practical strategies for workplace inclusion.
We are offering this interactive training to further illustrate the benefits of an engaged and inclusive campus community. Please consider this training as introductory and the beginning of our journey together. OCIE will be offering additional support, opportunities, and trainings to build our capacity as a community committed to social justice and advancing an equitable and inclusive culture. While in-person experiences are ideal, this is a self-paced module to allow you to engage in deeper conversations aligned with our mission.
Special Events
On October 29, 2018, the African American Women in New England held their annual (full day) conference at Simmons University. More than 20 faculty and staff were able to participate due to the support of Provost Katie Conboy, Senior Vice President for Institutional Advancement Amy White, and the Office of Organizational Culture, Inclusion & Equity.
Next Steps
Our team is inspired by making a difference in the lives of others, and is excited to facilitate this work with all members of the Simmons community. During this spring semester we will continue to make strides in the operationalization and implementation of the tactics that will accomplish our strategic goals. We look forward to sharing the space, conversation, and work with you as we integrate diversity, equity, and inclusion into all that we do in and out of the classroom.