Faculty Spotlight
Evolving Roles in Business and Education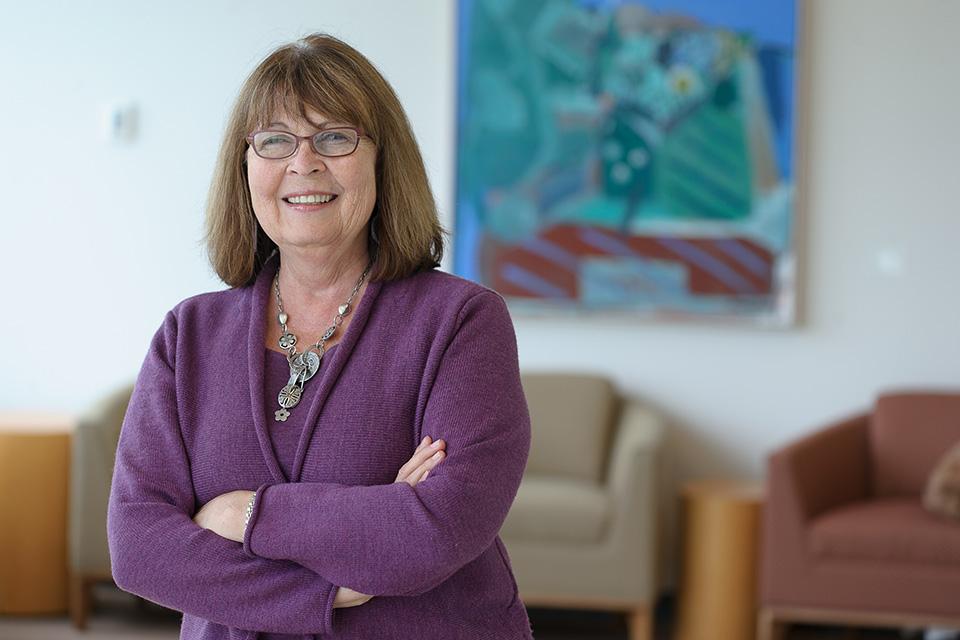 A Conversation with Retiring Faculty Member Patricia Deyton.
How were you first drawn to Simmons?
In 2004 I became the Faculty Director of the Center for Gender in Organizations (CGO) and instructor in the undergraduate program, teaching multiple sections of Introduction to Management. I was aware of Simmons as a college dedicated to the advancement of women and I knew the value of single sex education; my daughter had attended a single sex private high school and was, at the time, a student at Barnard College. I was drawn to the impressive and ground-breaking research on gender equity in organizations being undertaken at the CGO.
My 15 years at Simmons included three major roles: Director of CGO for 13 years, administrative roles as associate dean and graduate program director for 5 years, and a constant role as a faculty member, teaching in the School of Business (then School of Management) and SLIS; I've taught in graduate, undergraduate, and doctoral programs.
Has teaching influenced your research?
My research has focused on advancing women, women and leadership, and gender equity in organizations. I had many opportunities to provide training in these areas as well as diversity and inclusion, and nonprofit management. Teaching has influenced my research, and vice versa. My experience as a woman leader in the nonprofit field has shaped what I bring to the classroom from practice and theory.
What accomplishment are you most proud of?
I am very proud of the work done through the CGO during my time as director, which included acquiring almost $1.5 million in grants and contracts for work primarily related to gender equity in many organizations. I am proud of the continuous stream of valuable publications, presentations, speaking events, and training that the CGO was able to offer, all contributing to gender equity and organizational change. I was also a part of many changes at the School of Business and I'm grateful for the opportunity to work with so many dedicated and talented colleagues. I am especially proud of the many, many courses I taught and knowing that they helped students not only acquire knowledge in the areas of study, but taught them the confidence they need to lead in their professional lives.
What is the most important thing for women entering the business world to know?
Simmons has made a positive impact on preparing women to enter the business world by emphasizing the importance of competence, supporting them to become confident, guiding them to clarify their values, and encouraging them to find their authentic voices in the world.
However, progress in the advancement of women in all types of organizations has slowed, which means we need to continue our commitment to this work.
What do you plan to do in your retirement?
I'm starting a training business with an emphasis on gender and leadership, expanding my role as the Senior Advisor for the Council of Women World Leaders, and I've identified some areas where I hope to contribute as a volunteer. I'll continue to explore my love of travel and enjoy living on Cape Cod. I'm also going to resume my study of classical piano, take more cooking lessons, and get a shell-fishing license.