Student Story
Cultural Barriers & Lack of Access: Christina '18 Talks Health Care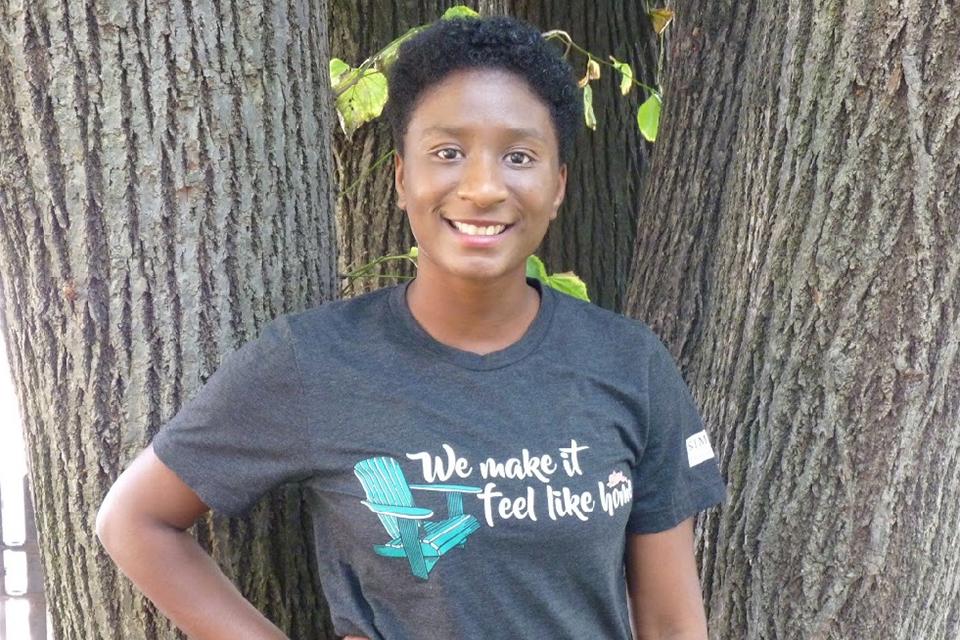 Christina Guerrier '18 reflects on her Simmons experience and tells us why she's ready for a career in nursing.

On pursuing nursing
Growing up, I noticed the lack of access to health care in my own neighborhood. The nearest hospital was miles away and there was only one local nurse, so everyone was sent to her. I knew I wanted to be like her so I could help others, educate my patients and bring some much-needed changes to the health care systems back home.
On crossing cultural barriers
I'm very passionate about providing culturally appropriate care, which I define as the ability to adequately care for a patient despite language barriers or cultural differences. Although this isn't always easy, because all of us have preconceived notions of people from different cultures, it's important to get to know each patient and individualize their care.
Language shouldn't be a barrier to educate your patients and care for them properly. I've always been passionate about learning different languages and cultures. French, specifically, has always been a part of my life, so I continued to pursue that passion when I came to Simmons.
On choosing Simmons
Simmons was my top choice because of the nursing program and for financial reasons. The scholarships I was awarded made it possible to come to Simmons and have meant the world to me. Because Simmons is a small, women-centered college, I've had so many opportunities to grow, get involved and accomplish many great things. It was one of the best decisions that I've ever made.
On her internships
I interned at the International School of Boston, where I worked as a classroom/teaching assistant to primarily 5th graders. I facilitated group discussions in French, lead school projects and assisted with grading. It was amazing to be able to practice French and learn so much from my students.
I was also a Patient Care Assistant on the thoracic floor of Brigham and Women's Hospital. This has been a rewarding experience because I was able to practice what I learned and I also acquired new skills. Each patient has a different story and it's always a joy to help watch their progress as they're recovering from major surgeries like lung transplants.
I've learned a lot from both experiences — most importantly to be kind to everyone. My internships have taught me to be open minded, compassionate and respectful of others' values.
On her scholarship
I had the privilege of speaking at the Scholarship Brunch last month. I spoke about the amazing opportunities and experiences I've had because of the Mosakowski & Thornton scholarships — these scholarships have really shaped my future as a nurse. It was an honor to speak at the brunch and truly express my gratitude towards my donors — their philanthropy really makes a huge impact on the lives of students, myself included.
As Nelson Mandela once said, "Education is the most powerful weapon which you can use to change the world." Being gifted with these scholarships has been a blessing and the impact they've made is immeasurable.
On her Simmons moment
Being an RA this year was my Simmons moment — it really allowed me to be more involved on campus, grow as a leader and also learn a lot about myself. I've met amazing people along the way!