Campus & Community
From Community to Curriculum: Translating Social Responsibility into Archival Education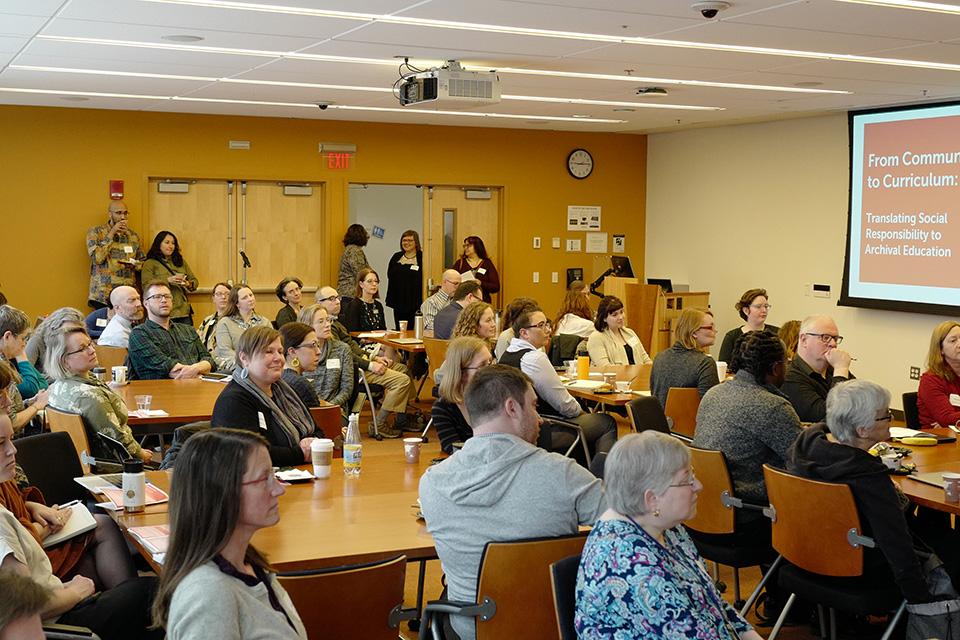 SLIS students and professionals gather at the 2019 Allen Smith Symposium.
On April 12 & 13, students, faculty, and professionals within the library and information science field gathered at Simmons for the 2019 Allen Smith Symposium, "From Community to Curriculum: Translating Social Responsibility into Archival Education."
The event began with a welcome from Dean Marie desJardins followed by SLIS Director Sanda Erdelez. Professor and Dean Emerita Michèle Cloonan shared some remembrances of the late Allen Smith, whose traveling scholar gift funded the Symposium, and whose diverse interests were well captured by the spirit of the event. 
The Symposium also honored Professor Jeannette Bastian before her retirement. Jeannette led the Archives program for 20 years, contributing considerably to the field itself through her publications and curriculum development. Jeannette also welcomed the audience and panelists, pointing out the importance of learning how to respond to societal changes within the archival discipline. 
Following the opening remarks, the panelists of archival educators, including participants from Australia, Canada, Jamaica and the United Kingdom, offered their thoughts on the following complex archival issues: 
Educating students to explore archival work in non-traditional settings
Reimagining "archival identity" as a complex skill set that can be applied anywhere
The social and ethical issues inherent in archival records
The decolonization of curriculum and the biases that underpin critical foundations of the profession
How standards intended to simplify processes have instead pushed institutions apart due to varying needs, and how the diversity of multiple voices represented by archives can bring those institutions together again
The value of teaching risk and helping students and new professionals become comfortable with making mistakes instead of focusing solely on success
How archival educators can teach social justice 
The archivists' role as a purveyor of context for the materials they preserve and make accessible. 
Discussion of these topics continued in working groups of participants and panelists, and included archival educators exploring ways to continue engaging with one another. Major themes of the conference will be incorporated into a collaborative publication.