Undergraduate Families
You have been an essential part of your student's success, and we want to celebrate with you the important milestone and accomplishment of your graduating student. While we can't all gather together in a way we would like to, we can still find moments to be in one another's presence to celebrate. We hope you take the opportunity to either stream the student candle lighting or join us for our small family reception on our Academic Campus. If the event you are looking to register for is not available, we have reached capacity. We are evaluating additional opportunities and will inform you of any additions. Please note: we continue to monitor the latest on the pandemic, and as always, final decisions about campus events will be dictated by public health guidelines.
Monday, May 24 and Tuesday, May 25
Family Reception Candle Lighting and Toast with President Wooten
In-person | 7pm-8pm
Join President Wooten for our inaugural family candle lighting to celebrate all your student has accomplished with other families from the Class of 2021. Family members of the graduates will light a candle to commemorate their student's time at Simmons with a toast. Additionally, you will be able to have your photo taken by a professional photographer on our decorated graduation stage. While your student cannot be at this event, you can submit a photo of them to have their picture blown up to an 18 inch big head.
Each family can have two members attend. Due to the City of Boston guidelines, we can only accommodate up to 100 attendees per event.
Wednesday, May 26th, 2021, and Thursday, May 27th, 2021
Student Candle Lighting and Toast
Virtual | 7pm-8pm
Join your graduating student virtually and live stream this coveted Simmons tradition. The candle lighting will celebrate all your student has accomplished during their time at Simmons and mark the end of their university career. Students will light a candle to commemorate their last night as a Simmons student with a toast with President Wooten.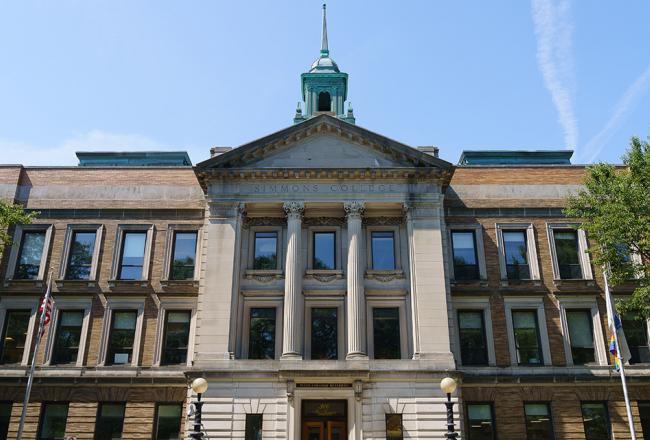 Health and Safety
We continue to monitor the latest on the pandemic, and as always, final decisions about campus events will be dictated by public health guidelines. See more information on protocols, housing, and parking.
Health and Safety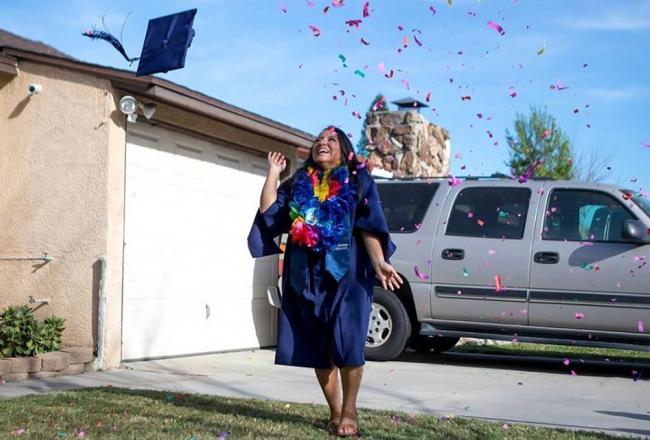 Celebrate with Us
Simmons community, let's join together to show this graduating class an outpouring of support and well wishes.
Celebrate with Big Heads!
While you aren't able to celebrate with your student at this family-only event, we have a solution. Submit your favorite picture of your student and on the day of your toast, we will have an 18inch "big head" of your student. You are able to hold this stick figure big head and introduce them to the other families.
Photo submission information
If you are picking from existing photos, we suggest:
Pick a large file-sized photo. We generally recommend 1MB or larger file sizes.
For head cutouts, close-up photos are best.
Make sure the image is well-lit.
If you are taking a new photo, here are some tips:
Your smartphone will do. You don't need a fancy digital camera. Most modern smartphone cameras are powerful enough to take great, high-resolution images.
Fill the frame as much as possible. For heads, get as close to their face as you can without cutting off ears, hair, or hats that you'd like included. For standups, get as close as to the person as you can without cutting off hands, arms, feet, or legs.
Make sure there is good lighting. It is hard for cameras to pick up details in low-light situations. This becomes even more pronounced when enlarging images.
Common pitfalls and things to avoid:
Images that have been shared. Typically, images shared via text or downloaded from social sites have been compressed. It might look ok on your phone, but when enlarged these images often become blurry. It is best to use original image files where possible.
Selfies. Traditionally, cameras on the fronts of phones produce lower quality images than those on the back.
Screenshots. These do not enlarge well.
Blurry images. While our image experts and software can often improve photos, there are limits to what can be done. Blurry images tend to only look worse as they are enlarged.
Digital Zoom. Most cameras offer a zoom feature, however, this is often accomplished via digital zoom where the camera or phone crops the image and makes it larger resulting in a lower resolution. This is the case for most smartphones. Optical zoom is where a lens does the magnification for the camera, and this does not reduce the resolution. If you aren't sure which kind of zoom is being used, it is best to avoid the feature and take a few steps closer to your subject.
Pictures of pictures. You may not have a digital original of that old yearbook photo, but taking a picture of physical photos can be problematic when it comes time to make them bigger.
Group pictures. Having to zoom in on group pictures to crop out individuals will diminish the file size and quality of images. Also, if part of a person's face or body is obscured by someone else in the group, they will likely look odd when cropped.
Obscene or offensive images. Build a Head reserves the right to refuse any photos.
Register