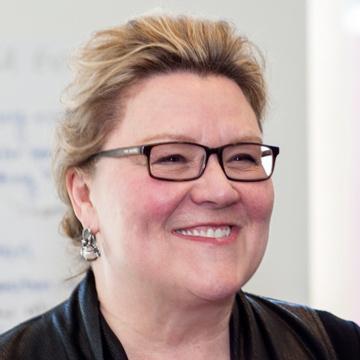 Education
Ph.D. University of Illinois, Urbana-Champaign
M.B.A. Western Michigan University
B.A. University of Massachusetts Boston
About Me
Dr. Teresa Nelson's work has been deeply guided by an interest in innovation – what it is, what it means, how and whom it impacts, and how it is actualized as entrepreneurship by individuals, teams and companies. Interests include how innovation happens in context, how it is embedded in capitalism and democracy, and its process and influence within institutions, networks, and society. Further, Nelson has expertise in teaching the development and exercise of practical skills that allow people to launch and successfully grow organizations of all types including creative and strategic thinking, access to capital, the role of storytelling and discourse, building the entrepreneur knowledge and resource net, and the art of the pitch.

Dr. Nelson is a professor of strategic management and entrepreneurship at Simmons University in Boston. She is also Director of the School's Entrepreneurship Program and a Faculty Affiliate of the Center for Gender in Organizations. Her teaching and research center in the areas of creativity; innovation and entrepreneurship; strategic management, governance and organizational forms, including non-normative forms and hybrids; access to capital for venturing; gender, pluralism and diversity; complexity applications in management and business; discourse and storytelling as valuable skillsets of the entrepreneur; and sustainability. Nelson also teaches in the Ph.D. program at the HEC, University of Liège, Belgium. Her current research projects concern the application of complexity theory ideas to governance relationships of high growth firms with application in biotechnology, identity formation in co-operatives as an alternative organizational form, discourse analysis of gender application in entrepreneurship policy, and the issues of gender for the sons and daughters of family business.
A priority for Dr. Nelson is to serve as a bridge from academia to practice. In 2014 she was appointed to serve as one of 15 members of the United States National Women's Business Council (nwbc.gov) whose purpose is to advise the United States President, Congress, and the Small Business Administration on issues of women as business owners. On the Council she represents Astia (astia.org), for whom she serves as a Global Advisory Board member and Advisor to the CEO on Policy and Research. Additionally, Nelson holds appointments in the UK (Academic Advisory Board, Women's International Centre for Economic Development) and in France (Scientific Advisory Board, Women Equity for Growth). She is also a founding member of the Juniper Research Collaboration headquartered at the University of Liège, in Belgium and of the Women's Entrepreneurial Council in Boston.
Dr. Nelson has taught on 5 continents spending 8 years with a focus on China, and more recently, 5 years on the European Union. She received her Ph.D. in Business Administration (Strategic Management/Global Business) from the University of Illinois, Urbana-Champaign, an MBA from Western Michigan University and her BA from the University of Massachusetts-Boston. She is a sought after speaker filling keynote, moderator, interviewer and session-leader roles. Recent engagements have included the National Academy of Engineering's Making Value for America national conference, the 2015 National SBIR/STTR Conference, the MIT Environmental Engineering D-Lab program, the annual keynote at the Alliance for Women Entrepreneurs in Philadelphia, and the Simmons Leadership Conference. Nelson currently runs her own consulting practice, Nelson Associates, which works globally.
Teresa Nelson's Curriculum Vitae
What I Teach
Graduate Classes
GSM440 Strategic Management Capstone
GSM502 Independent Study
GSM570 Creativity, Innovation, and Entrepreneurship
GMS571 Business Plans
MSMG440 Creativity and Innovation
Publications
Presentations
Nelson, Dylan; Huybrechts, Benjamin; Nelson, Teresa. Co-operative Organizing. The 2018 Society for the Advancement of Socio-Economics (SASE) Peer Reviewed, Kyoto, Japan.
Nelson, Teresa; Nelson, Dylan; Huybrechts, Benjamin. The Social Organizing Work of Co-Operatives, Peer Reviewed. The 2018 European Academy of Management Meeting, Reykjavik, Iceland.
Books
Henry, Colette; Nelson, Teresa; Lewis, Kate. Routledge Companion on Female Entrepreneurship, Routledge: London, 2017
Journal Articles
Nelson, Teresa; Constantinidis, Christina. Sex and gender in family business research: A review and forward agenda from a social construction perspective, Family Business Review, 2017.
Nelson, Teresa; Nelson, Dylan; Huybrechts, Benjamin; O'Shea, Noreen; Dufays, Frederic; Trascani, Giorgia. Emerging identity formation and the co-operative: Theory building in relation to alternative organizational forms, Entrepreneurship & Regional Development, accepted 2015.
Nelson, Teresa; Leger-Jarniou, Catherine; Chasserio, Stéphanie (2015). Research on women entrepreneurs: Putting the French-speaking perspective into context, Revue de l'Entrepreneuriat (published in French and English), in press, V 3-4.
Nelson, Teresa; Ahl, Helene -equally contributed- (2015). How policy positions women entrepreneurs: A comparative analysis of state discourse in Sweden and the United States, Journal of Business Venturing, 30:273-291
Nelson, Teresa; Ingols, Cynthia; Christian-Murtie, Jennifer; Myers, Paul. (2013). Susan Murcott and Pure Home Water: Building a mission driven enterprise in Northern Ghana, Entrepreneurship Theory & Practice, 37(4):961-979.
Nelson, Teresa; Ahl, Helene -equally contributed- (2010). Moving forward: Institutional perspectives on gender and entrepreneurship, International Journal of Gender and Entrepreneurship, 2(1) 5-9.
Constantinidis, Christina; Nelson, Teresa. (2009). Integrating succession and gender issues from the perspective of the daughter of family enterprise: A cross-national investigation, Management International, 14(1):43-58.
Nelson, Teresa; Maxfield, Sylvia; Kolb, Deborah. (2009). Women entrepreneurs and venture capital: Managing the shadow negotiation, International Journal of Gender and Entrepreneurship, 1(1), 57-76.
Venkatraman, Meera; Nelson, Teresa. (2008). From servicescape to consumptionscape: A photo-elicitation study of Starbucks in the New China, Journal of International Business Studies, 39(6): 1010-1027.
Nelson, Teresa; Levesque, Laurie. (2007). The status of women in corporate governance in high growth, high potential firms, Entrepreneurship Theory and Practice, 31(2):209-232.
Book Chapters
Bonnet, Jean; Le Pape, Nicolas; Nelson, Teresa. The route to high growth: Patterns of financial and operational decisions for new firms in France, in E.E. Springer, Entrepreneurship and Regional Issues, accepted 2015
Nelson, Teresa; Leblebici, Huseyin. (2014). An engagement theory of governance: The dynamics of governance structures in high growth, high potential firms, in J. Gabrielsson (ed.), Handbook on Entrepreneurship and Corporate Governance, Edward Elgar: Cheltenham, UK,
Nelson, Teresa (2010). Firm founders, in F.Bournois, J.Duval-Hamel, S.Roussillon, J-L. Scaringella (eds.), Handbook of Top Management Teams, Palgrave: London.
Myers, Paul; Nelson, Teresa (2011). Considering social capital in the context of social entrepreneurship, in A.
Fayolle and H. Matlay (eds.), Handbook of Research in Social Entrepreneurship, Vol, 1, Edward Elgar: Cheltenham, UK.
Nelson, Teresa; Duffy, Susan (2010). Men, women, sex and gender in entrepreneurship education, in A.
Fayolle (ed.), Handbook of Entrepreneurship Education, Vol. 4, Edward Elgar: Cheltenham, UK.