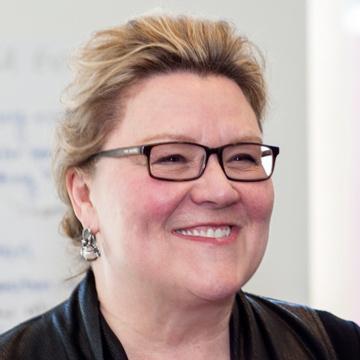 Education
Ph.D. University of Illinois, Urbana-Champaign
M.B.A. Western Michigan University
B.A. University of Massachusetts Boston
About Me
My work has been deeply guided by an interest in innovation – what it is, what it means, how and whom it impacts, and how it is actualized as entrepreneurship by individuals, teams, and companies. My background in strategic management and global business provides a framework to investigate the economy and its effects on people and organizations. In recent years, this has led to a deep commitment to providing ideas and tools for organizations to become more diverse and inclusive – and to empower employees at all levels of the organizations to champion change for equity. I believe that scholars in the social sciences have learned a lot about how to make this happen – but our knowledge is not making it "over the bridge" to practice at a necessary depth or speed.
My commitment to innovation and entrepreneurship has led to teaching and learning expertise around building, particularly, high growth, high potential companies in the STEM arena. Entrepreneurial capital, governance relationships, and organizational puzzles around performance are of special interest. I served the Obama Administration as a member of the National Women's Business Council whose purpose is to advise the White House, Congress, and the Small Business Administration on issues of women as business owners. From this grew a portfolio of research projects related to the nexus of federal funding to universities and faculty for science and technology innovation. Research at MIT, and for the national Association of Women in Science, since has contributed to documenting the lack of attention and commitment to gender discrimination in this arena at various institutional levels in both the private and public sectors.
I am glad to serve in a long-time role as the Senior Director of Policy and Research for Astia and as a member of the Academic Advisory Board, Women's International Centre for Economic Development (UK), as a member of the MIT led Boston Biotech Working Group, and from 2019-2020 as a Visiting Scholar for the Association for Women in Science. In 2021, I began an appointment as an international scholar for GEST, the Group-Entrepreneurship–Society- Transformation, at the Université du Québec à Montréal, Canada. With collaborator, Dr. Christina Constantinidis, I am continuing a champion trail to identify and prescribe around issues of gender in family business on a global scale. We collaborate with Family Enterprise Canada, the premier family business association for family business members and their advisors in the country.
It's been a privilege to have taught on 5 continents with 8 years dedicated to China and the last decade to the European Union. I have a wide portfolio of presentation credits, including keynotes, learning sessions, and as a moderator and interviewer. I also run my own consulting practice, Nelson Associates, which works globally.
 
What I Teach
Graduate Classes
GSM440 Strategic Management Capstone
GSM502 Independent Study
GSM570 Creativity, Innovation, and Entrepreneurship
GMS571 Business Plans
MSMG440 Creativity and Innovation
Publications
Presentations
Nelson, Dylan; Huybrechts, Benjamin; Nelson, Teresa. Co-operative Organizing. The 2018 Society for the Advancement of Socio-Economics (SASE) Peer Reviewed, Kyoto, Japan.
Nelson, Teresa; Nelson, Dylan; Huybrechts, Benjamin. The Social Organizing Work of Co-Operatives, Peer Reviewed. The 2018 European Academy of Management Meeting, Reykjavik, Iceland.
Books
Henry, Colette; Nelson, Teresa; Lewis, Kate. Routledge Companion on Female Entrepreneurship, Routledge: London, 2017
Journal Articles
Nelson, Teresa; Constantinidis, Christina. Sex and gender in family business research: A review and forward agenda from a social construction perspective, Family Business Review, 2017.
Nelson, Teresa; Nelson, Dylan; Huybrechts, Benjamin; O'Shea, Noreen; Dufays, Frederic; Trascani, Giorgia. Emerging identity formation and the co-operative: Theory building in relation to alternative organizational forms, Entrepreneurship & Regional Development, accepted 2015.
Nelson, Teresa; Leger-Jarniou, Catherine; Chasserio, Stéphanie (2015). Research on women entrepreneurs: Putting the French-speaking perspective into context, Revue de l'Entrepreneuriat (published in French and English), in press, V 3-4.
Nelson, Teresa; Ahl, Helene -equally contributed- (2015). How policy positions women entrepreneurs: A comparative analysis of state discourse in Sweden and the United States, Journal of Business Venturing, 30:273-291
Nelson, Teresa; Ingols, Cynthia; Christian-Murtie, Jennifer; Myers, Paul. (2013). Susan Murcott and Pure Home Water: Building a mission driven enterprise in Northern Ghana, Entrepreneurship Theory & Practice, 37(4):961-979.
Nelson, Teresa; Ahl, Helene -equally contributed- (2010). Moving forward: Institutional perspectives on gender and entrepreneurship, International Journal of Gender and Entrepreneurship, 2(1) 5-9.
Constantinidis, Christina; Nelson, Teresa. (2009). Integrating succession and gender issues from the perspective of the daughter of family enterprise: A cross-national investigation, Management International, 14(1):43-58.
Nelson, Teresa; Maxfield, Sylvia; Kolb, Deborah. (2009). Women entrepreneurs and venture capital: Managing the shadow negotiation, International Journal of Gender and Entrepreneurship, 1(1), 57-76.
Venkatraman, Meera; Nelson, Teresa. (2008). From servicescape to consumptionscape: A photo-elicitation study of Starbucks in the New China, Journal of International Business Studies, 39(6): 1010-1027.
Nelson, Teresa; Levesque, Laurie. (2007). The status of women in corporate governance in high growth, high potential firms, Entrepreneurship Theory and Practice, 31(2):209-232.
Book Chapters
Bonnet, Jean; Le Pape, Nicolas; Nelson, Teresa. The route to high growth: Patterns of financial and operational decisions for new firms in France, in E.E. Springer, Entrepreneurship and Regional Issues, accepted 2015
Nelson, Teresa; Leblebici, Huseyin. (2014). An engagement theory of governance: The dynamics of governance structures in high growth, high potential firms, in J. Gabrielsson (ed.), Handbook on Entrepreneurship and Corporate Governance, Edward Elgar: Cheltenham, UK,
Nelson, Teresa (2010). Firm founders, in F.Bournois, J.Duval-Hamel, S.Roussillon, J-L. Scaringella (eds.), Handbook of Top Management Teams, Palgrave: London.
Myers, Paul; Nelson, Teresa (2011). Considering social capital in the context of social entrepreneurship, in A.
Fayolle and H. Matlay (eds.), Handbook of Research in Social Entrepreneurship, Vol, 1, Edward Elgar: Cheltenham, UK.
Nelson, Teresa; Duffy, Susan (2010). Men, women, sex and gender in entrepreneurship education, in A.
Fayolle (ed.), Handbook of Entrepreneurship Education, Vol. 4, Edward Elgar: Cheltenham, UK.