Shari Johnson
Adjunct Faculty in the Role of Section Instructor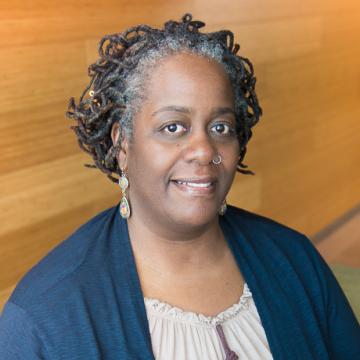 Education
BSSW; University of Alabama
MSW; Wayne State University
MA (coursework completed); Wayne State University
PhD student, HPED (Health Professions Education); Simmons University
About Me
Prof. Shari is a Native-Detroiter who relocated to the Boston area after nearly five decades in the state of Michigan. She earned her BSSW with a minor in gerontology from the University of Alabama at Birmingham and an MSW with a focus in health care and gerontology from Wayne State University in Detroit. She joined the SocialWork@Simmons faculty as a Professor of Practice in May of 2016 to serve as the senior faculty lead for the SWO 409 (Dynamics of Racism & Oppression) course community (re) organizing/building and activism; social justice and diversity, specifically around the lived experiences of marginalized communities of TBLGQI and POC.
Prof. Shari also has nearly 10 years of experience teaching cultural anthropology at a local community college after completing all of her coursework for a MA in linguistic anthropology, also from Wayne State University in Detroit.
During her time in Michigan, Prof. Shari also provided off-site supervision to recently graduated MSW's. Prof. Shari was often asked to provide consultations, trainings and professional development to organizations seeking to begin, or expand, their DEI efforts through her own consulting firm, The Traveling Diversity Professor.
Prof. Shari's volunteer work included serving as healthy cooking instructor with Simon House in Detroit; a transitional housing space primarily for HIV positive women of color and their children. When she moved to Ann Arbor, she served as a tester for the Fair Housing Center for Southeastern and Mid-Michigan for the next five years and then as a member of the RFI sub-committee for United Way of Washtenaw County for her final five years before leaving for Boston.
During her short tenure in Boston & at Simmons University, Prof. Shari has started the first-ever online chapter of the ABSW (Association of Black Social Workers). She remains the faculty adviser for this chapter, as well as the online Queer & gender non-binary student group. 
In Feb. of 2018, Prof. Shari organized nine Simmons University partners to join our community for a week-long celebration of the 50th anniversary of the NABSW (National Association of Black Social Workers) & the one-year anniversary for the first-ever online ABSW chapter by bringing the author of the book, The Black Power Movement & American Social Work, Joyce M.Bell, to our campus.
What I Teach
Dynamics of Racism and Oppression (SWO 409) course in the SW@S program
HBSE (SWO 411) course in the SW@S program
Human Sexuality (SWO 455) course in the SW@S program
Prof. Shari is also often invited to teach on ground undergraduate BSW, graduate MSW courses, as well as the First Year Undergraduate seminars, as well as facilitate workshops during undergraduate student leadership orientations.
Research/Creative Activities
In the past, Prof. Shari has enjoyed conducting research about the experiences of students of color in higher education. She has also enjoyed writing in the area of faculty development, specifically about the infusion of self in teaching and the experiences of women of color faculty.
In fall 2018, Prof. Shari decided to return to these interests by enrolling in Simmons' PhD in HPED (Health Professions Education) program where she intends to study & research the effectiveness of trigger & content warnings on students of color in race-focused courses in social work programs.
Working with undergraduate sociology/public health major on the various stereotypical tropes of the ideology of the 'Strong Black Woman' (SBW with the following funding support 2018-2019)
SURPASs18 grant
SURE grant
Professional Affiliations & Memberships
Faculty Senator; 2017-2020
DIAC; 2016-current
CET Faculty Learning Community; 2017-2018
CET STARS Scholar & faculty lead; 2018-2019
CET Faculty Advisory Community; 2018-2020
Creating & developing various CET workshops
Community Engagement Faculty Fellow; 2018-2019