Rachel Williams
Assistant Professor
School of Library and Information Science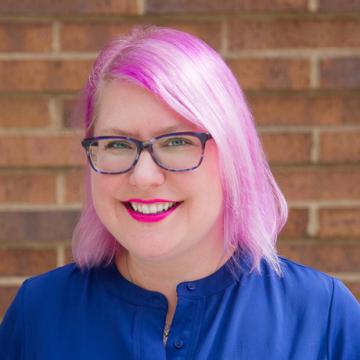 About Me
Rachel Williams joined the faculty in Fall 2017. She earned her doctorate from the University of Wisconsin-Madison's School of Library and Information Studies. Her teaching areas are technology for information professionals, database design, reference and user services, and research methods. Williams' research areas are rooted in issues of social justice, professionalization, and librarianship. Most recently, her work looks at how public library workers navigate issues of professionalization and work boundaries when providing consumer health and social services information to people experiencing homelessness. Before completing the doctoral program at UW-Madison, Dr. Williams worked in public and corporate libraries in Washington State. In her free time, she plays roller derby and enjoys hiking with her family and two huskies.
Rachel Williams' Curriculum Vitae
What I Teach
LIS 488: Technology for Information Professionals
Research/Creative Activities
Supporting Our Patrons
Patrons in crisis often turn to the public library as a space for support in finding health and social services resources. Boston Public Library actively meets the needs of a variety of people in crisis, including those experiencing homelessness, people suffering from substance abuse, and survivors of domestic violence, for example.
Learn more about Supporting Our Patrons
Publications
Most recently, Dr. Williams' work has focused on issues of professional boundaries, public libraries, and meeting the health and social services information needs of people experiencing homelessness. This research examines public library workers' professional boundaries by considering:
the interactions between librarians and people experiencing homelessness;
cultural and social factors that may influence how boundaries are negotiated;
and how public librarianship compares with the social work and healthcare professions.
In this project, she argues that the tensions in this boundary work contribute to and help explain the challenges public library staff encounter when providing information services to people experiencing homelessness. Her research was awarded the 2017 Jesse H. Shera Award for the Support of Dissertation Research.
Dr. Williams' additional projects have also considered information issues in other organizational contexts. In one project, Dr. Williams works as a collaborator for a continuing project examining issues of sustainability in data archives. Her other interests have centered on information issues in higher education and considers how disability coordinators' use health information in the work. Papers related to these research foci have been published in journals such as Library and Information Research and presented at several conferences, including The Association for Information Science and Technology, among others.