Rachel Galli
Associate Professor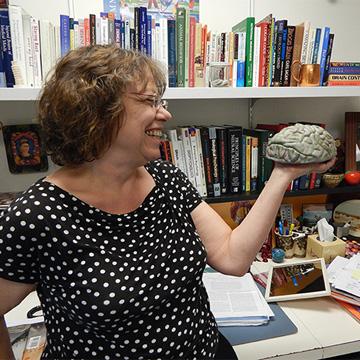 About Me
Nobel prize winning geneticist Barbara McClintock wrote, "Everything is one. There is no way to draw a line between things." This is certainly true in my own field of Neuroscience, where the study of brain and behavior integrates many areas of study and emphasizes the connection between mind and body. It is also true of my work here at Simmons. It is difficult to draw a line between my teaching, research, and mentoring efforts, in part because they are intertwined around a central theme of increasing the participation of women in the sciences. I traveled a nontraditional path in finding my passion and vocation, and I especially enjoy helping others explore their interests and career possibilities. Sometimes you'll be surprised where life takes you, and it is the life skills and education you acquire in college that can help you make the most of your opportunities. I love to teach, and here at Simmons I'm able to work closely with students as they become active participants in a learning process that occurs in the classroom, in the research lab, and in advising relationships and extracurricular activities.
What I Teach
PSYC 101 Introduction to Psychological Science
PSYC 201 Biological Psychology (with lab)
PSYC 244 Drugs and Behavior
PSYC 301 Research in Biopsychology (with lab)
NB 347 Seminar in Neuroscience and Behavior
Research/Creative Activities
Ever notice your parents or grandparents struggling to recall a word or the reason why they walked into the room? As people age they often lose some of their mental and physical powers. My research investigates treatments that may prevent or reverse deficits in certain types of learning and memory. Most recently I've been studying the effects of a normal diet supplemented with fruit, on brain function, motor behavior, and learning and memory. Colorful fruits high in antioxidant polyphenolics, like blueberries and raspberries, appear to slow, or even reverse, decrements in cognitive and motor performance. I'm interested in better understanding the neurophysiological mechanisms underlying behavior change and how best to help the old brain stay young.