Michelle Putnam
Professor of Social Work and Director of the Doctoral Program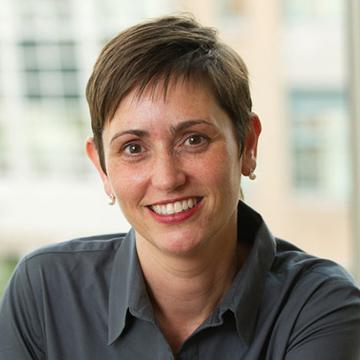 About Me
Dr. Putnam's research focuses on the intersections of aging and disability, with particular emphasis on understanding how public programs and public policy meets the needs of persons aging with disability. Within this area, her work examines collaborations between aging and disability service providers and their capacity to serve the aging with disability population, long-term care and support needs of persons aging with disabilities, the role of activity portfolios in fostering well-being among older adults, and the relationship of asset accumulation in fostering financial security and independent living among older adults and persons aging with disability. Dr. Putnam holds a Ph.D. in Social Welfare from the UCLA Luskin School of Public Affairs, a Masters of Gerontological Studies from Miami University in Oxford, Ohio, and a Bachelor of Arts in History from the University of Michigan, Ann Arbor. She served as a Post-Doctoral Fellow in Public Health and Disabilities at the Rehabilitation Research and Training Center on Health and Wellness for Persons with Long-term Disabilities, Oregon Health Sciences University, Portland, OR. Dr. Putnam served on the faculty of the Brown School at Washington University in St. Louis prior to joining the School of Social Work at Simmons University.
Dr. Putnam's scholarship is both independent and done in collaboration with colleagues across institutions and disciplines, and when possible with direct stakeholders. Funders of Dr. Putnam's research and/or research collaborations include the John A. Hartford Foundation, AARP Foundation, National Institute of Aging, National Institute on Disability, Independent Living, and Rehabilitation Research, Administration for Community Living, Canadian Institutes of Health Research, Productive Living Board of St. Louis County, and Council on Social Work Education. She is frequently engaged to speak about aging with disability and public policy to research, practice, and policy audiences.
Dr. Putnam is one of the few scholars in the field of social work studying aging with disability and is recognized for her leadership in this area. She has actively worked to build awareness of the distinctions between aging with long-term disability and incurring disability for the first time in later life as it relates to provision of supports and services and the overall experience of aging. Her work is both theoretical and empirical, but always related to public policy and the practical aspects of making aging and disability policies and programs work well for people aging with disabilities and their families. Dr. Putnam's current interest in capacity building within aging and disability service networks directly stems from her prior work. She believes that building capacity to meet unique needs of aging with disability populations has potential to compliment and move current discussions focused on institutional systems change to also include discourse what individuals and their families need to live independently, engage in their community, and experience positive aging.
In addition to her research, Dr. Putnam actively participates at the national and international level in building bridges across the aging and disability fields of policy and practice. She serves as a founding member of the Bridging Aging and Disability International Network (BADIN), is a Fellow of the Gerontology Society of America, member of the National Academy of Social Insurance, and member of the National Advisory Board on Improving Health Care Services for Older Adults and People with Disabilities, an independent board with funded by Anthem Inc., to provide expert opinion (including those contrary to industry) and guidance on the health care needs of persons with disabilities of all ages. Dr. Putnam also serves as Editor-in-Chief for the Journal of Gerontological Social Work.
What I Teach
Social Welfare Policies & Services (MSW)
Research Methods (MSW)
Social Action (MSW)
Advanced Research Design & Methods (PhD)
Integrating Public Policy Issues & Outcomes into Social Work Research (PhD)
Comparative Macro Social Work Practice Models (PhD)
Free online continuing education module: Policy Practice for Social Workers
Research/Creative Activities
Dr. Putnam is currently engaged in a several research projects including:
A scoping review of the literature on aging with disability and long-term services and supports
An analysis of activity portfolios in predicting health and wellness outcomes using data from the Health and Retirement Study with colleagues from Washington University in St. Louis
An interview study exploring capacity building needs within aging and disability supports and service networks to assist persons aging with disability with colleagues from Washington University in St. Louis, The University of Texas at Austin, the University of Illinois at Chicago, and the University of Massachusetts at Boston
A longitudinal study of persons aging with disability ages 50-65, changes in activities and participation, use of supports and services, and individual strategies to maintain engagement with colleagues from Washington University in St. Louis
Two studies related to Centers for Independent Living and institutional transition and diversion services with colleagues from ILRU, TIRR Memorial Hospital, Houston
A scoping review to build a preliminary typology of bridging aging and disability with colleagues from the University of Toronto, Australian National University, Wayne State University, and March of Dimes Canada
In addition, Dr. Putnam is currently serving as Co-Editor on the Handbook on Aging with Disability to be published by Routledge in 2019 with Dr. Christine Bigby of La Trobe University in Melbourne, Australia.
Publications
Chen, Y., Putnam, M., Lee, Y., & Morrow-Howell, N. (2018). Activity profiles and health outcomes in later life: Does nature of engagement matter? The Gerontologist pre-print e-pub.
Campbell, M. & Putnam, M. (2017). Reducing the shared burden of chronic conditions among persons aging with disability and older adults in the United States through bridging aging and disability, Health Care 5(56), 35030056, doi:10.3390.
Nalder, E., Putnam, M., Salvador-Carulla, L., Batliwalla, Z., Spindel, A., & Lenton, E. (2017). Bridging knowledge, policies and practices from the aging and disability fields: a scoping review protocol to inform the development of a bridging taxonomy, BMJ Open, 7: e016741, doi:10.1136.
Putnam, M. (2017). Extending the promise of the Older Americans Act to persons aging with disability. Research on Aging, 39(6), 799-820.
Coyle, C. & Putnam, M. (2017). Identifying adults aging with disability using existing data: the case of the Health and Retirement Study. Disability and Health Journal, 10(4), 611-615.
Coyle, C., Putnam, M., Mutchler, J. & Kramer, J. (2016). The role of Aging and Disability Resource Centers in serving adults aging with intellectual disabilities and their families: Findings from seven states. Journal of Aging & Social Policy, 28(1), 1-14.
Putnam, M., Molton, IR, Truitt, A.R., Smith, A.E., & Jensen, M.P. (2016). Measures of aging with disability in U.S. secondary data sets: Results of a scoping review. Disability and Health Journal, 9(1), 5-10.
Huang, J., Lombe, M., Putnam, M., Grinstein-Weiss, M., & Sherraden, M. (2016). Individual development accounts and homeownership among low-income adults with disabilities: Evidence from a randomized experiment. Journal of Applied Social Science, 10(1), 55-66.
Lombe, M., Mahoney, K., Yoosun, C., Inoue, M., & Putnam, M. (2016). Understanding effects of flexible spending accounts on people with disabilities: The case of a consumer directed dare program, Journal of Social Work in Disability & Rehabilitation, 15(1), 62-75.