Mark Dynan
Associate Professor of Practice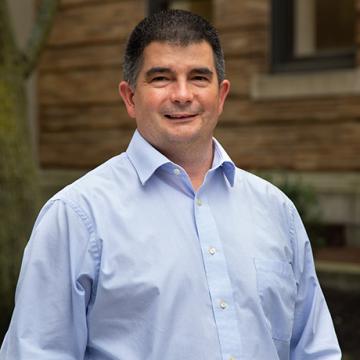 Education
Bachelor of Science in Biology, University of Michigan - Ann Arbor, 1990
Masters Degree in Physical Therapy, Simmons University - Boston, 1997
Doctor of Physical Therapy , Simmons University - Boston, 2003
License/Certifications
Physical Therapy License - State of Massachusetts since 1997
APTA Certified Clinical Instructor since 1999
Board Certified Orthopedic Clinical Specialist since 2008
About Me
I consider myself a 'Simmons lifer' as I have been associated with Simmons in some capacity over the past 27 years. I began here as a student in 1994 and have been a clinical instructor for Simmons PT students, adjunct faculty, and for the past 2+ years full time faculty in the Simmons University DPT program.
I met my wife at Simmons! I have three children - one in middle school and two in high school. I have participated in coaching them all in youth soccer, basketball, and baseball throughout the years in our hometown of Wilmington, MA. For other fun, I can be found on the golf course or at my grill in the backyard.
Area of Expertise
My clinical area of expertise is in orthopedic physical therapy in the outpatient setting.
My other academic area of expertise is in clinical education. I have been a clinical instructor (CI) and a site coordinator of clinical education (SCCE). Both roles have positioned me for my current position of Director of Clinical Education (DCE).
What I Teach
DPT 672/DPT 673 - I am a lab instructor in the Frameworks of Musculoskeletal Physical Therapy course.
DPT 612; DPT 613; DPT 712 - These are 3 courses in the Professional Seminar series that help prepare students for their integrated clinical experiences (ICE) as well as their 3 full time clinical experiences.
Community Engagement
APTA Faculty Ambassador for PT Moves Me
Professional Affiliations & Memberships
American Physical Therapy Association (APTA) member since 1995
New England Consortium of Clinical Educators (NECCE) member
Awards
CFI Clinical Educator of the Year Award, 2004