Maria Abate
Assistant Professor NTT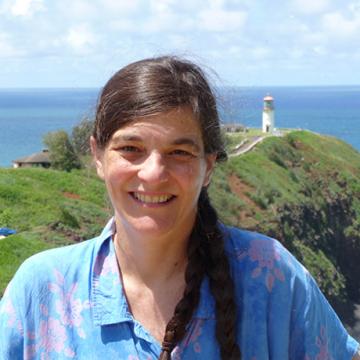 Education
Ph.D. Biology; Northeastern University
B.A. Zoology; University of California, Davis
About Me
I am originally from Rhode Island where the family quahogging outings and the importance of seafood in our traditional Italian cuisine initially shaped my interest and appreciation for the marine environment. I majored in zoology as an undergraduate and had exciting internships including tagging bears in national park backcountry and studying monkey social behavior in the laboratory. My strong roots and passion for the sea led me to complete a Ph.D. in marine biology. I have been a visiting researcher in different parts of the world including Hawaii, the Caribbean and Venice, Italy and other local academic institutions. My teaching philosophy is to engage others in discovery of evolution which is central to understanding all of biology and key to maintaining human and environmental health. I hope to empower students to think critically about biological systems and help create a more informed public dialogue about policies that affect the health of our environmental resources. My research laboratory in the biology department includes a freshwater fish husbandry program, and mentoring student research is central to my fish studies. My laboratory is where students with different career interests, work together to study the "how?" and "why?" of the evolution of fish adaptations.
Area of Expertise
Fish and marine biology
Evolution
Animal behavior
Ecology
What I Teach
Principles of Zoology (BIOL 218, 218L)
Marine Biology (BIOL 333, 333L)
Evolutionary Biology (BIOL 322)
General Biology Laboratory (BIOL113L)
Research/Special Projects
A concept central to my research is that an individual fish varies its traits in response to changes in the environment during its lifetime. My laboratory tests for the role that this plasticity plays in fish resistance to environmental stressors. This research has implications for environmental science, evolution and biomedicine. One research interest is how fish change their sensory systems and behavior to decrease their risk of predation. My lab also explores the internal mechanisms underlying the fish's stress response to understand the impact of environmental degradation. In addition, our close evolutionary relationship with fish enables their being a model for the impact of stressors and anxiety on human health. Techniques including behavioral analysis, microscopy and bioinformatics are used to explore these questions in fish we raise in my freshwater husbandry program. The fish facility that supports our research also provides an opportunity to obtain hands-on experience in aquatic husbandry.
Publications/Presentations
Maria Abate, 2019 (December). Why I Signed the Climate Emergency Warning, Guest Opinion, Fenway News.
Maria E. Abate and Lisabel Asuncion. 2019 (April). A Rapid Assessment method for monitoring early succession in marine biofouling communities. Colleges of the Fenway, Muddy River Symposium, Boston, MA.
Maria Abate, Mengyi Wang, Elizabeth Suos. 2018 (June). Does the chorion limit precocious activity in pre-hatch zebrafish (Danio rerio)? 21st Ecology and Evolutionary Ethology of Fishes Conference, Western and Concordia Universities, Montreal, Quebec, Canada.
Maria Abate, Laura Le, and Les Kaufman. 2016 (June). 20th Ecology and Evolutionary Ethology of Fishes Conference, Florida State University, Tallahassee, FL. Is group foraging in the convict cichlid (Amatitlania nigrofasciata) affected by Damage-Released Alarm Cues?
Professional Affiliations & Memberships
Visiting Researcher, Boston University, Department of Biology
Fellow, Linnean Society of London
Steering Committee, Ecological and Evolutionary Ecology of Fishes Conference
Sigma Xi
Member of the Animal Behavior Society; American Society of Ichthyologists and Herpetologists; Society for Integrative and Comparative Biology