Marda Messay
Associate Professor
Modern Languages & Literatures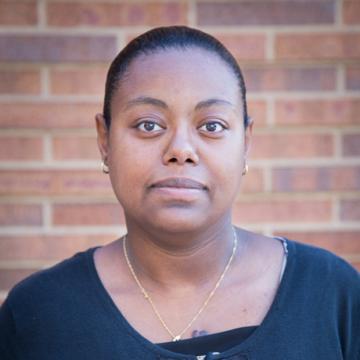 Education
B.A. French and Spanish, University of Dayton
M.A. French, Bowling Green State University
Ph.D. French Studies, Florida State University
About Me
I began working at Simmons University in 2016 as Assistant Professor of French, after working as a lecturer for 2 years at Washburn University in Topeka, Kansas.
I am committed to supporting students' journeys as they become globally aware and socially conscious citizens. Teaching language and literature/culture courses allows me to provide students with a strong foundation in French, to develop their inter-cultural competence, to equip students with the analytical tools and the knowledge necessary to expand their critical understanding of the Francophone world, and to inspire passion for and connection with literature and film of the Francophone world, especially those of African and Afro-diasporic origin.
What I Teach
FR 102 Elementary French II
FR 201 Intermediate French I
FR 202 Intermediate French II
FREN 245 Conversation and Composition
FREN 265 Francophone Short Stories and Films
FREN 316 Outside France : Perspectives from the French-Speaking World
Research/Creative Activities
My main research interest is in Contemporary Sub-Saharan Francophone Literature and Film. My scholarship is specifically grounded in textual analysis of trauma narratives and centers the core notion of literature as a tool against silencing and othering.
Publications
'"Can you see me? All of me?" Performing the child soldier in Congo My Body', International Journal of Francophone Studies, 20: 1&2, 2017, pp. 25–38.
"Des voix refuseront de se taire": women's voices in Leonora Miano's Contours du jour qui vient. WIF Studies Special Volume: Selected essays from the Women in French International Conference, 2019, pp. 182-192
"Gender, Trauma and Power in China Keitetsi's La petite fille à la Kalachnikov: Ma vie d'enfant soldat". Life Writing, 2021. pp.1-17.
"Nous étions ici pour durer": Memorialization and environmental advocacy in Véronique Tadjo's En Compagnie des Hommes". 25.4 September Issue of Contemporary French and Francophone Studies/SITES, 2021.
Professional Affiliations & Memberships
Awards
Alden Poole Faculty Mentor Award (2020)