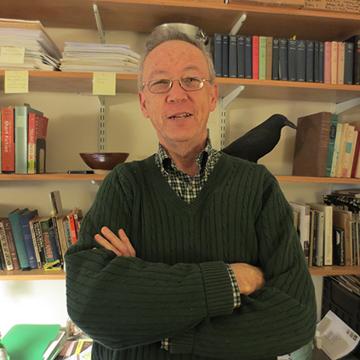 Education
B.A., Harvard University
Ph.D., Stanford University
About Me
I grew up in St. Louis, got my B.A. in English at Harvard (1967) and my Ph.D. at Stanford (1975). I was a conscientious objector during the Vietnam war. I came to Simmons in 1985 after teaching at the University of Missouri, UC San Diego, and Harvard's Expository Writing Program. Despite having done a dissertation on Anthony Trollope's Palliser novels, I didn't become a Victorianist; instead I've spent my career teaching writing. At Simmons I was director of Freshman Writing, later called Writing and Thinking, from 1985 to 1996, and then directed MCC, the first-year core/writing course, from 1996 to 1999. In 2004-2006, I led faculty workshops and seminars on teaching writing as part of the "Writing Infusion" initiative, whose goal is to have writing-intensive courses offered in all majors. I chaired the English Department 2002-2007.
I currently teach creative writing, both fiction and non-fiction, and Approaches to Literature, otherwise known as spring training for English majors. A collection of my teaching materials, along with reflections on writing pedagogy and the creative process, can be found on the web at http://lpei4.wordpress.com.
I've published literary criticism, book reviews, short stories, and a novel: Family Resemblances (Random House, 1986). I've had two short stories in "Best Of" collections: "The Cold Room" appeared in Best American Short Stories 1984; "Naked Women" appeared in The American Story: The Best of StoryQuarterly (1990). Since coming to Simmons, I've written six so-far-unpublished novels and a handful of short stories. Much of my published work, and some of the unpublished, can be found at http://www.lowrypei.com.
My sabbatical project in 2007-2008 was a book on how we think about our relationship with nature, focusing especially on water. A chronicle of this research, including photos of obscure local waterways and a lot of first-draft writing, can be found at http://lowrypei.wordpress.com. The resulting book, Waterways, can be found at http://lpei2.wordpress.com.
Much of my philosophy of teaching can be summed up in a few sentences:
It's all about relationship.
The learner is always in charge of the learning. There is no such cause-and-effect as "I taught, therefore they must have learned."
One of the most powerful things a teacher can do is create a dynamic of acceptance and trust.
You never figure out once and for all what makes learning happen; you just keep inventing.
What I Teach
ENGL 105 Creative Writing: Non-Fiction
ENGL 107 Creative Writing: Fiction
ENGL 199 Approaches to Literature
ENGL 305 Advanced Creative Writing: Non-Fiction
Recent past courses include
ENGL 402 Seminar on Teaching Writing
FYS (First Year Seminar) 103 The Idea of Nature
Research/Creative Activities
I continue to write fiction, but much of my thinking nowadays goes into how to teach the writing of narrative – an endless subject in itself.
I've set out in a new direction: making sound art – audio collages of ambient sound that I record.