Kris Erickson
Assistant Teaching Professor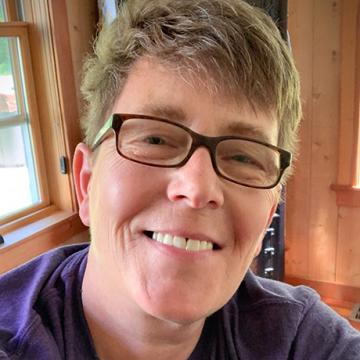 Education
George Mason University (Ph.D. '15)
University of Chicago (MA '04)
Columbia College of Chicago (MFA '04)
Smith College (BA '99)
About Me
I teach in the Department of Communications and the author of the book, The Digital City and Mediated Urban Ecologies, which examines the digital technological initiatives and programs of three major cities in the U.S. Prior to Simmons, I taught courses in visual, media and digital culture, communication, cultural studies, globalization, and advanced senior research methods and writing at George Mason University for eight years. I also taught at George Washington University for five years and was one of the first faculty members at Columbia College Chicago to introduce courses that focused on digital and Internet culture.
I hold a Ph.D. in Cultural Studies from George Mason University, with a focus on media studies, and my primary fields of research include urban communication and culture, media convergence, civic media and civic technology, visual and media culture, urban sustainability, mobile technologies, environmental rhetoric, and digital surveillance. Earlier in my career, I also worked in television (as a producer, editor, and videographer) and was a freelance writer for a number of publications in Chicago.
As urban populations continue to rise at an unprecedented rate, I am particularly interested in understanding how digital and mobile technologies, mobile apps, and open data connect to the meaning of the contemporary city, and mobilize discourses of urban sustainability, digitalized security and safety, and democracy. In the summer of 2014, and thanks to an Applied Urban Communication Research grant from the Urban Communication Foundation, I conducted research in Copenhagen, Denmark to explore how the city's use of digital and mobile technologies, in combination with urban planning efforts, are being leveraged to optimize existing infrastructures, help create dense "walkable" communities, conserve and consolidate urban resources, and make use of digital citizen participation in urban sustainability efforts. And in the summer of 2012, I received a grant to attend a professional development institute, "Spaces of Media," at Princeton University, in collaboration with the Bauhaus-Universität Weimar, Internationales Kolleg für Kulturtechnikforschung und Medienphilosophie, in Weimar, Germany, to explore with international colleagues how our use of media and digital technologies intersect with everyday spatial practices.
What I Teach
COMM 269 – Globalization: Intercultural Communication
COMM 262 – Media Convergence
COMM 121 – Visual Communication
BOS 101 – Virtual Boston
LDR 121 - Civic Engagement and Mobile Activism
LCIS 201 - Coding and Digital Stories
COMM 250 - The Interactive Story
Research/Creative Activities
Always searching for the balance between theory and practice, I offer innovative, inclusive, and active learning opportunities for my students in an effort to help them situate their learning within real-world contexts and address contemporary problems. Almost every aspect of our lives are now intertwined with digital and media , and communication occurs regularly now in often imperceptible ways, such as through the collection of data and its aggregation, online maps, GPS/GIS systems we carry in our pockets or wear on our bodies, and the smartphone applications we use. Because we are (sometimes unknowingly) communicating a vast amount of information on a daily basis through these kinds of technologies and media platforms, it has become increasingly crucial that we not only have a thorough understanding of how messages are created and received in our visually and digitally-saturated culture, but also how to best communicate our own messages within these contexts.
Publications
Book
Scott, Kristin. The Digital City and Mediated Urban Ecologies (Palgrave Macmillan, 2016).
Book chapters and articles
Erickson, Kris. "Marginalized Geographies and Spatial Identities" in L.P. Rajendran & N.D. Odelye, eds. Emerging Identities in the Futures of Place: Media, Space and Culture (Springer, 2019).
Erickson, Kris. "The promises and pitfalls of cyber urbanism: governance and participation" in Zlatan Krajina & Deborah Stevenson, eds. The Routledge Urban Media Companion (Routledge, 2019).
"New York City's Open Data," in Eric Gordon and Paul Mihailidis, eds., Civic Media:
Technology, Design, Practice (MIT Press, 2016).
"Digital Urban Health & Security: NYC's Got An App For That," in Edward Clift, Carol Smith, and Glenda Amayo Caldwell, eds. Digital Futures and the City of Today: New Technologies and Physical Spaces (Intellect Books: 2016).
"Designing Cities of the Future," Digital America. Issue 1; Vol. 3. December 17, 2013. Pedagogical process piece.
Six chapters in Davis, Perrin, ed., Creating Academic & Professional Success: Course Book, Agate Publishing, 2007.
"Gateway to Virtual Science," University of Chicago Magazine, Dec. 2001. Book Review:
"Media and the City," Information, Communication & Society, 2016. Research Projects:
Professional Affiliations & Memberships
Member of The Mediated City Research Team, Architecture, Media, Politics, and Society (AMPS), an international nonprofit research organization. This team works on an ongoing set of research, event and publication initiatives aimed at building up a major resource on the city and its relationship with media and technologies.