James Corcoran
Associate Professor and Chair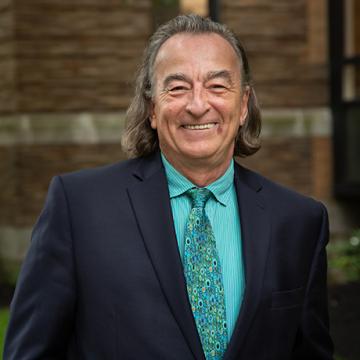 Education
B.A. Journalism, University of North Dakota
B.A. Political Science, University of North Dakota
M.P.A., Harvard University's John F. Kennedy School of Government
About Me
James Corcoran, an associate professor in the Department of Communications, is the author of two books on domestic terrorism. The first, Bitter Harvest: The Birth of Paramilitary Terrorism in the Heartland, examined the rise of the anti-tax movement in rural America embodied by extremists groups such as the Posse Comitatus. NBC-TV turned the book, which was based on Corcoran's Pulitzer Prize nominated coverage of the murders of three U.S. marshals by a militant tax protest group, into a made-for-television movie, starring Rod Steiger, entitled "In the Line of Duty: Manhunt in the Dakotas." Bitter Harvest received the Gustav Meyers Center's award for Outstanding Book on the subject of human rights and the Golden Pen Award. Penguin Press reissued it with a new foreword in 1995 following on the Oklahoma City bombing. A third edition was reissued in 2005.
His second book, Gathering Storm: America's Militia Threat, was co-authored with Morris Dees, founder of the Southern Poverty Law Center. Written after the Oklahoma City bombing, it traced the growth and impact of hate groups, militias, and racist demagogues.
Corcoran is a member of the United Nations' "Roster of Experts on Terrorism and Related Phenomena" and a recipient of the Bush Foundation Leadership Award, which is awarded annually to no more than 20 people who are considered of "substantial standing" in their fields. During his 10-year career as a journalist, which included work for The Forum of Fargo-Moorhead and Newsweek, Corcoran received more than 24 state, regional, and national writing awards.
What I Teach
Comm 122 Writing and Editing Across the Media
Comm 124 Media, Messages, and Society
Comm 260 Reporting: Chasing the Story
Comm 310 In-Depth Storytelling for the Digital Age
Comm 315 Blogging/Op-Ed Writing
Comm 344 Senior Seminar: Storytelling
Publications
Aside from his two books on the subject, Corcoran has written more than two dozen articles and op/ed pieces on the subject of domestic terrorism for a variety of newspapers and magazines, including the Boston Globe, Newsday, Denver Post, Miami Herald, and Kansas City Star. 
He also has consulted on four documentaries, some which still air on the History Channel and A&E, and has appeared at dozens of seminars and on more than 300 regional, national, and international television and radio programs – ranging from A&E's 20th Century with Mike Wallace, National Public Radio's All Things Considered and Fresh Air, ABC's World News Now, and Voice of America -- where he has discussed the subject of hate groups and anti-Semitism in America.
A third book, Casselton: Portrait of a Neighborhood, looked at the demise of small town America and how a once self-contained, self-satisfied, self-supportive, and self-reliant community is trying to find a new sense of place. Its story is one seen through the eyes of a native son, and the lenses of ten documentary photographers.