Elizabeth Murphy
Associate Professor of Practice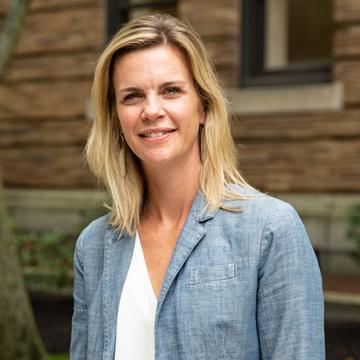 Education
Doctor of Physical Therapy, Simmons University
Bachelor of Science Nutrition, University of Rhode Island
License/Certifications
Massachusetts and New Hampshire Licensed Physical Therapist
APTA CI Credentialed
ACBIS Brain Injury Certified: 2010-2011
About Me
I have been a practicing physical therapist since 2009 primarily in the inpatient acute rehabilitation setting. In 2012 I started as an adjunct faculty member at Simmons University as a lab assistant and tutorial leader. In 2014 I accepted a role within DPT Clinical Education.
Physical Therapy has given me the opportunity to teach both students and patients as they strive towards their goals. As a member of the clinical education team at Simmons, I truly enjoy the process of working with all stakeholders to mentor and guide students as they transition from academia to the clinic.
Outside of Simmons you can find me in the mountains or enjoying the beach with my husband and two girls.
Area of Expertise
What I Teach
Coordinator for the Integrated Clinical Experiences embedded throughout the curriculum
DPT 701 Clinical Experience 1
DPT 792 Clinical Experience 2
DPT 793 Clinical Experience 3
DPT 714 Professional Seminar Series
Publications/Presentations
Publications
Holmes MB, Driscoll L, Murphy E, Starr JA. A cross-sectional study of empathy among students at two Doctor of Physical Therapy programs in Boston", has been accepted for publication in the Journal of Allied Health. - 2018
Holmes MB, Driscoll L, Murphy E, Starr JA. A longitudinal study of empathy among students at two doctor of physical therapy programs in Boston. J Allied Health. 2021
Platform Presentation
ACAPT Education Leadership Conference: 10/19/19
Seattle Washington
Holmes MB, Starr JA, Driscoll L, Murphy ED,
A cross sectional and longitudinal exploration of empathy among students at two Doctor of Physical Therapy programs in Boston. 2019
Poster Presentation
APTA Combined Sections Meeting;
Education Section 2/17/17
San Antonio, TX
Huddleston, JH, Murphy, E, Beebe, JA, Harris, M.
Student perception of professional behaviors for the 21stcentury. Unpublished data. 2016
APTA Combined Sections Meeting;
Education Section 2/24/18
New Orleans LA
Holmes MB, Starr JA, Driscoll L, Murphy ED,
A cross sectional study of empathy among students at two Doctor of Physical Therapy programs in Boston. 2018
Professional Affiliations & Memberships
APTA Since 2006
NEC-ACCE Since 2014