Devashish Tiwari
Assistant Professor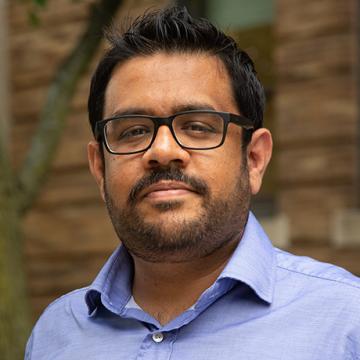 Education
Doctor of Philosophy, University of Michigan-Flint
Neurologic Clinical Specialist (NCS); American Board of Physical Therapy Specialties (ABPTS)
Doctor of Physical Therapy, University of Michigan-Flint
Masters in Physical Therapy, Manipal University, India
License/Certifications
Physical therapist licensed in Massachusetts and Michigan
About Me
Dr. Tiwari joined the faculty at Simmons University in August 2019. He has been a physical therapist since 2004. Prior to joining Simmons, he served as an assistant professor at the School of Physical Therapy, MCPHS University, Worcester Massachusetts. He also serves as a member of specialization, residency and fellowship committee of the American Physical Therapy Association. His primary research focus is on pediatric/adolescent concussions, outcome measure development and validation specific to pediatric population and pediatric telehealth.
Area of Expertise
Pediatric physical therapy, concussion, outcome measures, telehealth
What I Teach
Frameworks for Physical Therapy: Neuromuscular system I and II
Research proposal course
Publications
Tiwari D, Naidoo K, Chatiwala N, Bartlo PL, Triola A, Ong B, Gore S. Exploratory Analysis of Physical Therapy Utilization and Practice Patterns for Individuals with COVID-19 Phys Ther 2021: March. https://doi.org/10.1093/ptj/pzab088
Saini S, Golwala P, Parmar LD, Tiwari D, Palekar TJ Cognitive Behavior Assessment in Chronic Low Back Pain: A Narrative Review Int J Cogn Behav 3:009 DOI: 10.23937/2690-3172/1710009
Tiwari D. Goldberg A, Yorke A, Marchetti G, Alsalaheen B Measurement Properties of the Dizziness Handicap Inventory-Children and Adolescent (DHI-CA) in children and adolescents post-concussion Pediatr Phys Ther 2020;32(4):382-388.
Tiwari D, Alsalaheen B, Goldberg A, Tally S. Comparing strength of association between the Five-Times-Sit-to-Stand Test and measures of balance and lower limb power in community-dwelling older adults. Int J Ther Rehabil. 2019; 26(3):1–10. https://doi.org/10.12968/ijtr.2018.0001
Tiwari D, Goldberg A, Yorke A, Marchetti G, Alsalaheen B. Characterization of cervical spine impairments in children and adolescents post-concussion. International Journal of Sports Physical Therapy 2019. 14 (2): 282 DOI: 10.26603/ijspt20190282
Tiwari D, Daly, C, Alsalaheen, B. Home based circuit training program in an adolescent female with severe traumatic brain injury: a case report. Physiotherapy Theory and Practice 2017; DOI: 10.1080/09593985.2017.1370750
Tiwari D, Rao BK, Solomon J. Normative scores on pediatric balance scale: A cross sectional study Indian Journal of Physiotherapy and Occupational Therapy 2011; 5 (2):45-48.
Professional Affiliations & Memberships
Member of the American Physical Therapy Association (APTA)
Academy of Pediatric Physical Therapy
Neurology section
Research section
Education section
Awards
Marilyn Gossman Graduate Student Research Seminar Jan 2019