Denise Horn
Interim Associate Dean and Associate Professor, Department of Political Science and International Relations and Department of Women's and Gender Studies
Political Science & International Relations
Women's and Gender Studies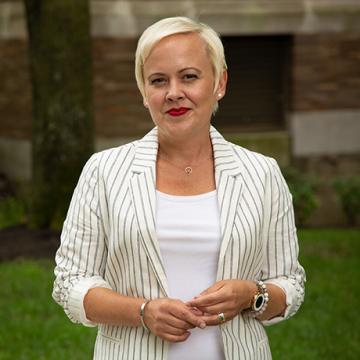 About Me
I am a Feminist International Relations scholar; my work explores the relationship of civil society development to democratic growth, focusing on women's transnational activism and trends in global development strategies, such as social entrepreneurship. I am a passionate advocate of women's rights globally, and work with organizations such as the Women's International League for Peace and Freedom to bring attention to these issues.
I am the author of Democratic Governance and Social Entrepreneurship: Civic Participation and the Future of Democracy (Routledge 2013) and Women, Civil Society and the Geopolitics of Democratization (Routledge 2010). I have facilitated workshops in social entrepreneurship in Thailand, Indonesia and India. I was a 2014 Fulbright Senior Scholar, where I conducted seminars in Democratization and Human Rights at Universitas Andalas, in Padang, West Sumatra, Indonesia. I am very happy to be joining the faculty of Simmons University this semester!
What I Teach
POLS 102 Introduction to International Politics
POLS 225 International Politics of East Asia
Research/Creative Activities
My current research focuses on the embodied nature of citizenship in democratizing states, with a concentration on Southeast Asia. I examine this in a variety of ways, including development schemes, state natal policies, and women in civil society.