Catherine Robbins
Interim Director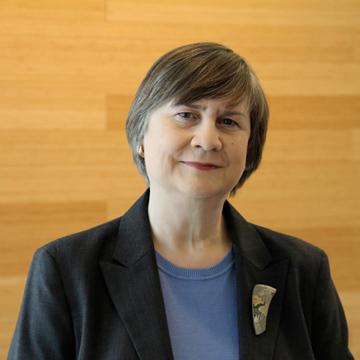 About Me
Professor Robbins is Interim Director of the Simmons University School of Business where she has overall responsibility for the faculty and programs. She is also Professor of Practice with experience leading hospital and health care systems as a senior health care financial executive and communicating about the broader health care financial trends from the perspective of an investment banker.
Professor Robbins led the Health Care MBA Program at Simmons. As Professor of Practice at the Simmons School of Business she brings together faculty, and regional health care employers to support this AACSB and CAHME accredited program designed for students working in health care providers, payors and government. As Professor of Practice at the Simmons School of Business, Professor Robbins teaches financial reporting, health care finance and health care financial strategy to graduate students. She teaches health care finance to undergraduate students. She is recognized for both her in-class and online teaching excellence.
As a Vice President of the health care investment bank, Cain Brothers, she served clients' capital needs, researched, and wrote on topics such as trustee liability, asset and liability management, asset redeployment, and hospital bankruptcy. Prior to that, as Vice President of Finance at the newly created $2.5 billion Partners Healthcare in Boston, she directed strategies, financial planning and all areas of financial administration.  She worked with the new Partners Board of Trustees to develop their capital strategies and to clarify the capital, budget and fiduciary responsibilities of the multiple independent boards. Prior to her role at Partners, Professor Robbins was Senior Vice President for Administration and Chief Financial Officer at Massachusetts General Hospital, leading all financial operations and strategies as well as handling administrative responsibility for planning and managed care contracting.
Professor Robbins has a longstanding commitment to education of health care leaders. While at Partners, she was the Director of the MGH Administrative Fellowship Program. She has served as Chair of the Accrediting Commission for Education of Health Care Administration, as Treasurer of the National Center for Healthcare Leadership, and has published on leadership competency development.
What I Teach
Undergraduate classes
MGMT 239 Health Care Finance
Graduate Classes
MBAO 420  Financial Reporting
MBAHO 434 Health Care Finance
MBAHO 436 Health Care Financial Strategy
MBAOI 490 Immersion on Financial Simulations
Publications
Robbins, C., T. Rudsenske, and J. Vaughan. 2008. "Private Equity Investment in Health Care Services." Health Affairs 27 (5):1389-1398.
Sapienza, A.M.; Robbins, C; Lowe, J. "The Basics of Implementing Leadership Competencies in a Master's Curriculum: Bloom's Taxonomy, Pedagogy, and Student Assessment." Annual Meeting of the Association of University Programs in Health Administration, Orlando, Fl, May/June 2007.
Robbins, C., K.C. Connors, T. Sheehan, and J. Vaughan. 2005. "Risk Factors." Healthcare Financial Management 59(6): 78-83.
"The Other Side of the Balance Sheet--Making Assets Work." 2003. The Bond Buyer's 4th Health Care Finance Conference, Chicago.
"Balance Sheet Risk Reduction for Nonprofit Organizations." 2002 . HFMA Annual National Institute, Seattle Washington.
"Preparing for a Career in Health Administration: Academics." 2002. International Conference on Competencies for Health Services Managers; Yerevan, Armenia.
Vaughan, J., and C. Robbins. 2001. "Best Financial Practices for Trustees." Trustee, The Magazine for Health Care Governance 54 (3): 16-20.
Robbins, C., E. Bradley, and M. Spicer. 2001. "Developing Leadership in Health Care Administration: A Competency Assessment Tool." Journal of Healthcare Management 46(3)188-202.
"Reality After the Merger." 1998. Yale University, School of Public Health, New Haven, CT.