Audrey J. Golden
Assistant Professor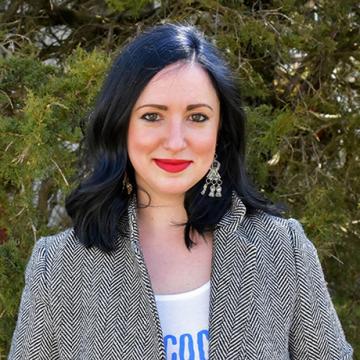 Education
Ph.D., English Language & Literature, University of Virginia
J.D., Wake Forest University School of Law
B.A., Wesleyan University (Major: Film Studies)
About Me
Audrey J. Golden is an assistant professor of English. Her research and teaching focus on twentieth and twenty-first century global Anglophone literature and international jurisprudence.
She has taught a wide variety of courses in English and Film Studies, including courses on Human Rights and Global Literature, Postcolonial Cinema, British Immigrant Fiction, and Global Indigenous Literature. As both a literary scholar and lawyer by training, her research investigates the relationship between fiction and international human rights law. She is currently working on her first book manuscript, Novel Repair: Restorative Justice, Global Literature, and International Law.
Professor Golden also has taught cinema courses for the Boston community at the Coolidge Corner Theatre in Brookline, and she regularly contributes to the music magazine Louder Than War. In addition to her teaching and research, Professor Golden is a rare book collector and has written for the International League of Antiquarian Booksellers (ILAB).
What I Teach
Human Rights and Global Literature
Women in the Global South
Postcolonial Film
The Postcolonial Novel
World Drama and Political Performance
The Art of Film
Boston: Immigrant Law & Literature
Approaches to Literature
Publications
Audrey J. Golden's first book project, Novel Repair: Restorative Justice, Global Literature, and International Law, demonstrates how the global Anglophone novel imagines new models of repair for historical, procedural, and spatial exclusions of international law in the non-western world. Her research serves as both an alternative history of, as well as an addendum to, the international criminal tribunal system that starts at Nuremberg. The project begins instead with the India-Pakistan Partition of 1947 in Bapsi Sidhwa's novel Cracking India, and demonstrate how imaginative narratives from the Biafran War in Nigeria (1967-1970), the Khmer Rouge genocide in Cambodia (1975-1979), and the system of apartheid in South Africa (1948-1991) develop enhanced tribunal structures in which perpetrators take punishment and victims find remedies. This book ultimately argues for a literary model of human recovery in which reparative reading practices reshape the punitive language of the law and reclaim postcolonial histories of resistance.
In addition to her first book manuscript, Professor Golden has articles and book chapters published or forthcoming in The Cambridge Companion to Human Rights and Literature; The Routledge Companion to Literature and Human Rights; College Literature; Law, Culture and the Humanities; Commonwealth Essays and Studies; Antipodes: A Global Journal of Australian/New Zealand Literature; and The Wake Forest Law Review.