Ann Graf
Assistant Professor
School of Library and Information Science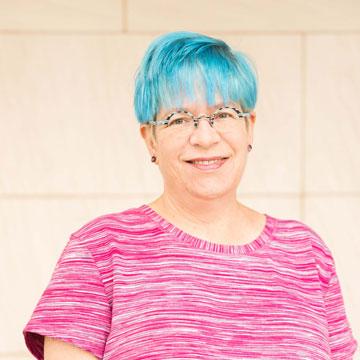 About Me
Ann Graf received her PhD from the University of Wisconsin-Milwaukee and joined the Simmons faculty in 2018. Her teaching experience is in information organization, cataloging, resource description, and utilizing resources for research. Her work has focused on organization and description of arts and cultural materials and the use of controlled vocabularies for outsider art communities. Her article comparing the Getty Research Institute's Art and Architecture Thesaurus (AAT) terminology with that used by the graffiti community received the Best Paper Award of the International Society for Knowledge Organization's biannual conference in Rio de Janeiro in 2016 and highlighted the need for the inclusion of graffiti-art related vocabulary in the AAT. This resulted in the AAT greatly expanding the available graffiti art terminology now available to users of the thesaurus. Her dissertation built upon the foundations in this paper and examined the documentation of graffiti art and street art online around the world.
She has worked as a research assistant and bibliographer for the Encyclopedia of Milwaukee, which resulted in the publication of Bibliography of Metropolitan Milwaukee by Marquette University Press in 2014. She also assisted The Hmong Milwaukee Civic Engagement Project, conducting oral history interviews with numerous civic engagement partners in the city and surrounding community. She was a cataloging and technical services intern at the University of Wisconsin-Milwaukee Libraries and supported community outreach activities in collection development during her MLIS studies. She is a photographer and has had her work in solo and group gallery shows. She also participates in citizen science monitoring projects when time allows, focusing on odonate species (dragonflies and damselflies) and Monarch butterfly tagging. She enjoys running, biking, knitting, and all the arts.
What I Teach
LIS 415 - Information Organization
LIS 446 - Art Documentation
Research/Creative Activities
Areas of Interest
Controlled Vocabularies, Domain Analysis, Description and Organization of Digital and Material Collections
Descriptive Facets of Worldwide Graffiti Art
My research on the organization of graffiti art and street art online has explored how interested individuals within the street art community have set out to document the movement by collecting photographs of the works and posting them in online collections for browsing by the general public. The works are highly ephemeral as they are most often in the outdoor environment and are often unsolicited and easily damaged, painted over, or in other ways removed. Often these photographic collections comprise the only records of art works valuable aesthetically, historically, culturally, and for various research purposes. The works are normally seen as outside the art mainstream and not documented by formal art institutions. Understanding the motivations for documenting these works and how the collections are described and organized can lead to better access for not only researchers and other artists, but for anyone interested in the artform. My research therefore has examined what facets of the works are considered important for organization and description according to those who are carrying out the work of documentation from within this outsider art community.