Aaron Rosenthal
Asst. Prof. of Political Science and International Relations
Political Science & International Relations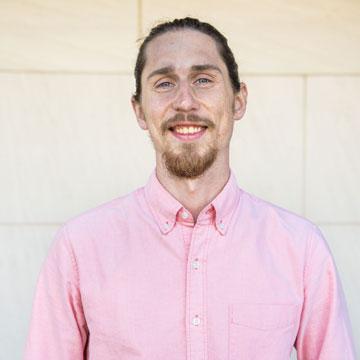 Education
PhD University of Minnesota, 2018 
About Me
Aaron Rosenthal joined the faculty of Simmons University in 2018. His research and teaching interests are located within American politics, with particular specializations in public policy, race and politics, state and local politics, political inequality, political behavior, and qualitative methods. 
In his teaching, Aaron works to illuminate the connections between the course material and the lived experience of students, fostering a sense of the important role that politics, public policy, and government play in our daily lives. His research examines the relationship between public policies and the American political dynamic. He is particularly interested in how policies structure and influence popular understandings of government and beliefs related to social and political inequalities. Seeking insights from a wide range of scholarly and methodological approaches, he aims to clarify how public policies may create, perpetuate, or help to overcome political relations that run counter to the normative ideals of a just and democratic society. 
His most recent work examines how the American state shapes the development of political attitudes and behavior. The conventional wisdom holds that the popularity of policy's utilizing indirect mechanisms, such as tax breaks, has obscured the role of government by creating a submerged state, leading to historically low levels of political trust. Recent events, however, have highlighted how visible the state can be, particularly in the form of the criminal justice system. In resolving the tension created by this contrast, he shows that a more complete understanding of antipathy towards government is found not by considering how the state is hidden, but rather how it is made differently visible to different populations. Through this approach, he uncovers a racial split in government visibility that shifts scholarly conceptions of public policy's role in the decline of government trust and the perpetuation of political inequality.
Prior to Simmons, Aaron received his Ph.D. in political science from the University of Minnesota. While in Minnesota, Aaron worked with community organizations around issues of racial, social, and economic justice, and he looks forward to engaging in similar work in Massachusetts. Aaron currently lives in Boston with his partner and their dog, Sonny. More information about Aaron's teaching and research can be found at his personal website: aaronjrosenthal.com.
What I Teach
Introduction to American Politics
State and Local Politics
Policy Analysis and Theory
The War on Drugs
Surveillance in Modern America
Community Engagement
Aaron is a member of Boston's Scholar Strategy Network, which seeks to connect academic research to policy making at all levels of American government. Prior to his move to Simmons, Aaron worked with community organizations around issues of racial, social, and economic justice throughout the state of Minnesota, and he looks forward to engaging in similar work in Massachusetts. Aaron also currently serves as the Vice Chair for the Devin Smith Scholarship Foundation, which benefits students from his former high school, Saint Paul Central.
Research/Creative Activities
Aaron's research on the dimensions of racial inequality in America has been published in Social Science History, while research into the diffusion of policies across the American states has appeared in Journal of Health Politics, Policy, and Law, as well as State Politics and Policy Quarterly.  Aaron's current research examines racial variation in the way the American state is made visible in people's lives, with a particular emphasis on the public policy changes that have structured that variation and the political implications that flow from it. 
Publications
Rosenthal, Aaron. "Conflicting Messages: Multiple Policy Experiences and Political Participation." Forthcoming at Policy Studies Journal.

Rosenthal, Aaron. "Investment and Invisibility: Racially Divergent Consequences of Political Distrust." Forthcoming at Du Bois Review.
Bruch, Sarah K., Aaron Rosenthal and Joe Soss. 2019. "Unequal Positions: A Relational Approach to Racial Inequality Trends in the U.S. States, 1940-2010." Social Science History, 43(1), 159-184.
Karch, Andrew and Aaron Rosenthal. 2017. "Framing, Engagement and Policy Change: Lessons for the ACA." Journal of Health Politics, Policy and Law, 42(2), 341-362.
Karch, Andrew and Aaron Rosenthal. 2016. "Vertical Diffusion and the Shifting Politics of Electronic Commerce." State Politics & Policy Quarterly, 16(1), 22-43.
Chen, P. G., Appleby, J., Borgida, E., Callaghan, T. H., Ekstrom, P., Farhart, C. E., Housholder, E., Kim, H., Ksiazkiewicz, A., Lavine, H., Luttig, M. D., Mohanty, R., Rosenthal, A., Sheagley, G., Smith, B. A., Vitriol, J. A. and Williams, A. 2014. "The Minnesota Multi-Investigator 2012 Presidential Election Panel Study." Analyses of Social Issues and Public Policy. 14(1), 78-104.
Professional Affiliations & Memberships
American Political Science Association
Midwest Political Science Association
Southern Political Science Association
Scholars Strategy Network