Arts Administration Institute/New York City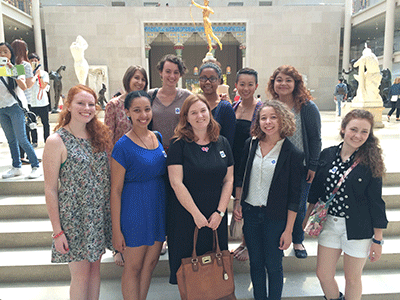 Offered every other June, this exciting travel course exposes students to New York City's cultural riches and to a host of careers in the arts and in arts administration.
For one month, students live in Manhattan and immerse themselves in the New York art world. They read and think critically about its history, structure and challenges, and learn directly from arts professionals about the career paths available to them. Morning discussion classes are combined with afternoon visits to cultural organizations such as Christie's, The Frick Collection, Lincoln Center, Museum of Modern Art and the Metropolitan Museum of Art as well as galleries and foundations that support the arts. Students attend performances and meet Simmons alumnae involved with the arts.
Members of previous Institutes have said:
"This course exposed me to opportunities and positions I never knew existed. The ability to converse with art professionals and see things first hand was priceless."
"I think the course was great. It was so informative and well taught. I truly felt like I got a sense of what working in the New York art world would be like."
"It was really exciting to be able to imagine myself working at some of the institutions we visited. I really had no idea how many different careers there were within the arts administration field, and although I still don't know exactly what I want to do, I feel like I have options!"
The Arts Administration Institute in New York City was founded in 2002 by art history alumna Catherine Hannah Behrend '70 and former Art Department professor Joyce Cohen. Behrend has been a forty year board member of the 92nd Street Y, and thanks to her partnership, the Arts Administration Institute is housed there.
Thanks to a generous gift from Jane Wesman, Simmons alumna and president of Jane Wesman Public Relations, Inc., the Arts Administration Program is able to offer substantial need-based scholarships that allow all students to take part in the New York Institute regardless of their financial resources.